Professors bring colour to Queen's Arcade
POP, one of six pop up gallery spaces to feature in Arcadia as part of Art in the City, showcases the work of Professors Nuala Gregory and Diane Brand, from the Faculty of Creative Arts and Industries.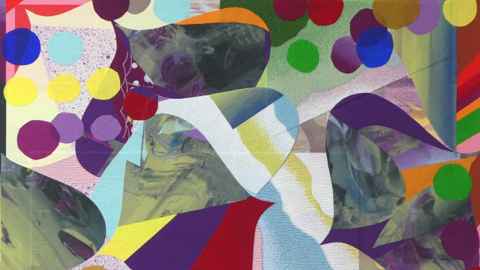 The former and current deans of Creative Arts and Industries, Professors Diane Brand and Nuala Gregory, are exhibiting their artwork together in historic Queen's Arcade in October.
Their exhibition, POP, is one of six pop up gallery spaces to feature in Arcadia, as part of Art in the City.
POP also includes work by Rick Allender, a cinematographer and established contemporary marquetry artist, who they have both collaborated with before, and who is also Professor Brand's husband.
Guided by a sophisticated understanding of compositional logic, the three artists play with and explore the possibilities of their mediums, designing cutting and pasting, moulding, and shaping their respective media.
Professor Gregory, current Dean of Creative Arts and Industries, has been an exhibiting artist for over 30 years, mainly in the medium of painting and collage, using bold colour, cut-out shapes, patterns, texture, layering and repetition. She approaches painting as a form of knowledge and a source of play, possibility and experimentation, privileging the aesthetic over the more dominant conceptual approaches to art.
She can trace her art practice back to experiments with collage as a working-class kid growing up in the conflict zone of west Belfast in the 1970s. The intrigue of collage is that it appears to have no visible ground, no absolute foundation, she says. "The supporting base gets covered over, eclipsed, lost to visibility. The elements have the reciprocal relation of holding each other afloat."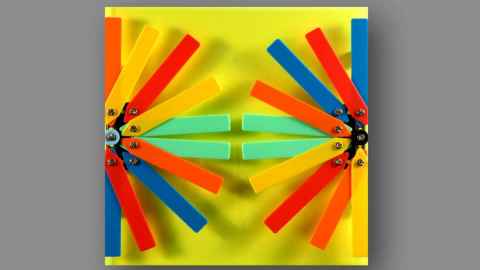 Professor Brand, who retired from her role as Dean of Creative Arts and Industries at the end of 2021, trained and practiced as an architect and urban designer, and is now working part time at the University of Auckland as the Director of Academic Reviews. After a career in teaching, research, and academic leadership, she began designing and making jewellery a decade ago to reconnect with the passion for design which informed her early career.
She now exhibits and sells her Art-to-Wear for people and their walls, in which she uses industrial componentry and upcycled jewellery to create original pieces of jewellery and wall art; no two pieces are the same. "My wish is to enable statement jewellery or small sculpture to be accessible to all, no matter what their budget," she says. "I believe the value of a piece lies not in its materiality, but in its innovative design. I'm particularly interested in plastic as a material, the expressiveness of colour and the re-composition of utilitarian componentry."
"I have discovered that designing and making things by hand really energises and renews me."
Professors Gregory and Brand collaborated together on works of jewellery for the 2021 Seed Gallery Kidscan Christmas show. Professor Gregory and Rick Allendar have held a number of exhibitions together including as part of Printmaking Beyond the Frame, an exhibition that travelled to Pataka Art Museum, Wairarapa Museum of Art and History and Masterton and Waikato Museum, Hamilton in 2017.
"Diane and I have worked together in senior roles at the University for many years – we've always got on and had lots in in common, in both our professional lives and our art and design practices, and so it is always a pleasure to work together on a joint exhibition," says Professor Gregory.
Arcadia is curated by Artfull, the online destination for discovering original art in Aotearoa New Zealand, which aims to take art outside the bricks-and-mortar white cube gallery.
Find out more about Arcadia, as part of Art in the City which runs from 7-16 October.