Architecture students create Urban Village for Late Night Art
A series of artistic projects created by students from the University of Auckland's School of Architecture and Planning will be exhibited as part of Late Night Art, part of Art in the City 2022.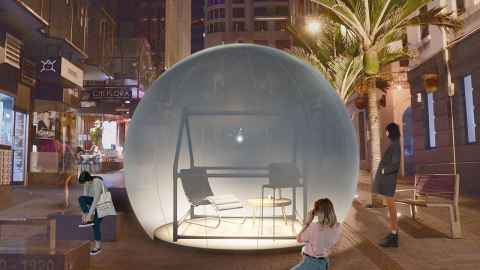 Nine structures that comprise the Urban Art Village, created and built as part of the School of Architecture and Planning students' course work, will be on display in a closed O'Connell Street, for one night only, Thursday 13 October.
Matt Liggins, artist, architect and teacher at the School of Architecture and Planning, led the teams' projects. This is the first time he has taught Art Installation as part of the students' fourth-year design paper. 
In his own own installation, Friendship Waka, he invites visitors to hop into a booth attached to a Toyota Vanguard bonnet and take a drive around Aotearoa, or wherever their imagination takes them.
Liggins' own public artworks could be described part art and part architecture, and always playful. In 2016 he took The Real Pyramid Schemer to the streets, a plywood pyramidal booth that popped up in public spaces. Liggins was concealed inside, and through a hole in the pyramid would invite passers-by to stop and have a chat, and he would draw on their conversation to create an artwork which he would gift them. Another project, Vitruvian Tunnel has been popping up in public spaces all around New Zealand and is on exhibition at Te Manawa Museum in Palmerston North until 2 December.
Liggins has evidently ignited that same sense of play in his students for Late Night Art. Housing Bubble, by Gujin Chung, Yifan Liu and Yilin Liu, offers a satirical commentary on our precarious housing market, with an inflatable PVC bubble, three metres in diameter wrapped around a steel plumbing pipe structure.
Housing density, property investment, NIMBY-ists, low-quality developments and the opposition to better public transport are personified as 'The Four Horsemen of the Housing Bubble'. The inflation of the PVC bubble responds to the interaction of the users.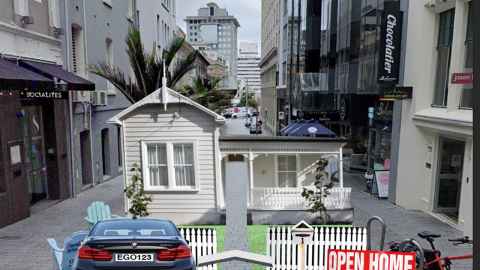 WHO AM I? by Madeline Brown, Betty Han and Reiden Le'Jan Purificacion explores how a structure can help reconnect an individual to their whakapapa and a sense of belonging, with an infinity mirror box that invites people to reflect on who they are.
As the title suggests, Auckland's Most Boring Office by Norm Dines, Gus Clelland and Cindy Zhang plays with the idea of the most boring office in the city. "Please note that time spent inside of Auckland's Most Boring Office is non-refundable. Enter at your own risk."
An installation by Anson Sieu, Kinki Lo, Evan Zhang and Johnny Jiang, The Supermarket of Thoughts, reflects on 'the greed of supermarkets', allowing the public to share their thoughts on matters often hidden within the production processes of the products, through challenging, introspective and light-hearted questions.
In Kiwi Dreamer, Karl Poland, Robbie Anderson and Shelley Jiao present the 'kiwi dream' of owning a detached home on a quarter-acre section as a 'nightmare reality' disguised by a picturesque Ponsonby villa with a white picket fence, dainty mailbox, manicured hedge and BMW parked outside.
In This is an Education Emergency Maxine Goon, advocates for shifts in tertiary education across and invites participants to reimagine their dream day at school.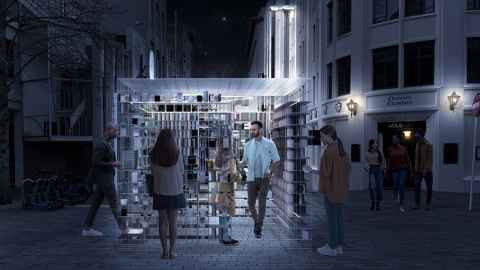 The Chairs in the Room, Quiet Beside the Elephant represents a family of 25, bonded by their roots in a process of change and improvisation with limited means, reunited as 'almost' chairs made from raw and processed timber, not quite civilised, 'not quite furniture'. The work, by Jack Wu, Oliver Ray Chaudhuri, Dianwang, Calvin Feng, William Chen and Binh Minh Ha, presents the family as the empty seats at the table, quiet beside the elephant, as arranged material artefacts, waiting again to be reborn.
Phillip Lee and Yeri Lee draw attention to the 'documented people of the city', such as the homeless, those who don't feel at home in the city or its public spaces. Their installation, Undocumented Objects, asks what interaction with undocumented people of the city would look like, and how the architecture would reflect the conversation.
Says Matt Liggins: "Students need other vehicles to practise architecture in as they don't often get practical opportunities at university and they hardly do in an architect's practice.
"Architecture is more than just a house or building, public art can talk to people, it can make them see things in a different light and, more importantly, it can make you feel like you have a voice in a pretty sterile commercially driven world."
Urban Art Village is part of Late Night Art and open one night only, Thursday 13 October, 5pm-9pm, at Freyberg Place in the City.