Outstanding brain scientist wins research medal
Professor Mike Dragunow has been awarded the Peter Gluckman Medal 2022 in recognition of three decades of research on therapies for brain injuries and trauma.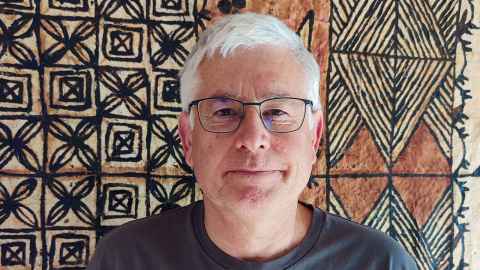 The winner of this year's pre-eminent research award in the Faculty of Medical and Health Sciences, Professor Michael (Mike) Dragunow, is committed to ensuring his research on the brain is contributing to patients, whānau and the global scientific community.

The Sir Peter Gluckman medal for 2022 has been awarded to Dragunow in recognition of his drug discovery in the field of brain injuries and trauma and his sharing of findings with the scientific community and the people of Aotearoa New Zealand.

"I came to Auckland to work as a post-doc with Distinguished Professor Sir Richard Faull in 1988 and we have worked together as scientists and friends ever since. He has always been an inspiration and he was the first to introduce me to the wonders of the human brain. He showed me that our research was not just for the scientific community but for the community at large, in particular people suffering brain disorders and their whānau.

"I feel very fortunate. I am but one member of this team of people who deserve this award, and it represents an acknowledgement of our research approach, and, in particular, an acknowledgement to the donors and the families for whom we undertake the research," he said.
Mike's research focuses on identifying the causes of, and developing treatments for, brain disorders such as epilepsy, stroke, Alzheimer's, motor neuron disease, Huntington's and Parkinson's, as well as brain injuries and cancers.
He established the Hugh Green Biobank, a facility developing world-leading methods to grow and study human brain cells and, most importantly, to directly test treatments on these cells. The Hugh Green Foundation has gifted an extraordinary $13.8M to establish and run the biobank in perpetuity.
Mike says his most significant contribution to research is developing effective treatments for patients with a range of brain disorders and cancers. He notes this work is collaborative with colleagues, students, research technicians, and postdoctoral fellows.
"We have always strived to communicate and share this knowledge with the scientific community so that these methods which we have pioneered might be utilised worldwide to promote the drug discovery process."
The theoretical and practical details of this work have been published in some of the top scientific journals such as Nature Reviews Neuroscience, Nature Reviews Drug Discovery, Nature Protocols, Trends in Neurosciences and Trends in Pharmacological Sciences.
Professor Dragunow has supervised more than 80 graduate students, published more than 300 publications and has been very successful in attracting significant long-term grant funding.
It was a privilege to be a part of this wānanga and engage with Melanie's iwi, especially around brain research because the head is sacred in te ao Māori.
Dr Melanie Cheung (Ngāti Rangitihi, Te Arawa) is a former doctoral student of his who is now a research director for Te Puna Ora o Mataatua. Melanie guided Mike to understand tikanga practices around researching the brain.
"It was a privilege to be a part of this wānanga and engage with Melanie's iwi, especially around brain research because the head is sacred in te ao Māori.

"It helped us understand a little more about how we can carefully carry out our research with tikanga in mind for working with human brain cells in the laboratory."
That journey saw him participate in actively promoting awareness and understanding of brain disorders through school visits and interactions with Māori students and whānau, including weekend-long hui held in Matata (Ngāti Rangitihi) and Auckland.
Mike says his life-long dedication to research comes off the back of his parents' sacrifice as they migrated to New Zealand from Greece and Russia after World War II.

"My mum Lena and Dad Genady inspired me to study - having been deprived of that themselves by the second world war.

"To my partner Sue, my kids, Nick and Lydia, thanks for your love and support and for putting up with the old geezer!

"Finally, thank you so much to the incredibly brave brain tissue donors and their families. Without their support and encouragement, none of this work would be possible and I would like to dedicate the Gluckman Medal to them."