Booklet on aphasia a good thing
Illustrated book, "It's a Thing" aims to raise awareness of the word-finding difficulties of aphasia, which often accompanies brain injury.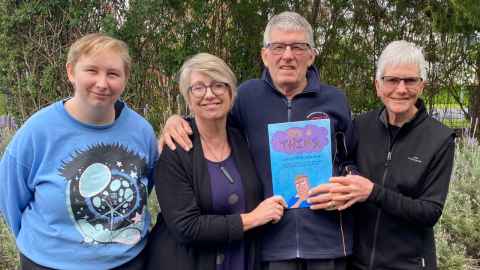 The University of Auckland's 'Gavel Club', a public speaking group for people with aphasia, is celebrating its tenth anniversary with the launch of an illustrated book.
"It's a Thing" is written by Ian Marshall, a keen cyclist and founding member of the Centre for Brain Research (CBR) Gavel Club, based on his winning speech about the word-finding difficulties that characterise aphasia.
"It is our sincere hope that this book helps those with aphasia, their family and friends, to embrace living with aphasia," says co-author Cathy Marshall.
The story arose from an eponymous speech that won Ian an end-of-year Gavel Club competition in 2013. He went on to give the speech at conferences in Australasia and New Zealand, attracting standing ovations along the way.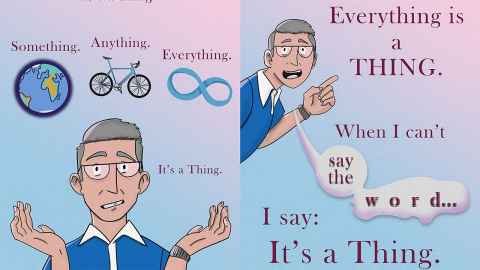 Honorary teaching fellow in speech science Celia Moore co-founded the Centre for Brain Research's Gavel Toastmasters ten years ago. She says Ian initially struck her as a shy guy, who had a passion for cycling.
"Then Ian gave this speech, which was amazing, lyrical and witty. He came alive with it," Celia says.
Celia never forgot this speech and eventually approached Psychology head Professor Suzanne Purdy, who was instrumental in helping set up the Gavel Club.
Suzanne introduced Celia to illustrator Kate McCullough who worked with Ian and Cathy to produce the book.
The CBR's Celebration Choir, a therapeutic community choir which will perform at the ten-year event.
CBR director Distinguished Professor Sir Richard Faull says the Gavel Club and choir foster help people rehabilitate from brain dysfunction.
"When you lose an ability to talk, like aphasia, that's often because of effects on the left hemisphere, which is your dominant side, but singing is controlled by your right hemisphere. So, by singing, that will influence the opposite hemisphere and help you recover.
"Eighty percent of people recover from stroke. It's giving them the right environment to retrain to recover.
"The brain is plastic which means you can influence recovery.
"I am not saying you can recover completely, but you can do all sort of activities that stimulate the brain. So socialisation is important, computer games are important, knitting, walking, singing, it's all important but interacting with people is critical."
Every day about 24 New Zealanders have a stroke and one in three survivors is diagnosed with aphasia. Approximately 20,000 New Zealanders live with aphasia; most of these are older, although young people can also have aphasia after a stroke.