Extra instrument tuition music to students' ears
More multi-instrumentalists and non-music majors are being given the chance to hone their musical skills, thanks to a School of Music programme supporting students to learn instruments that are underrepresented in the University's orchestra.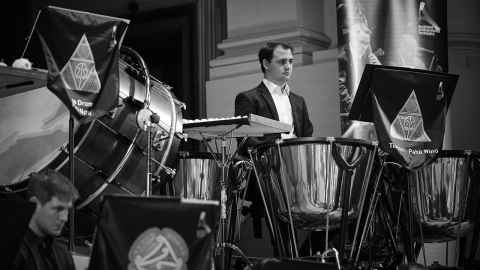 The Auxiliary Performance Stream was introduced at the beginning of 2022 and provides selected students with 12 one-on-one lessons over the year. The programme is funded by Graeme Edwards, who has also made other notable contributions to the University, such as gifting a virtual organ to the School of Music and establishing an award for students learning organ or early keyboard.
David Chisholm, head of the School of Music, says such support is "invaluable" to the school and that the programme not only provides a springboard for non-music majors to improve their musical skills and join the University orchestra, it also encourages students to learn or develop their skills on a second instrument, something that is "great for the musical health of the school".
The programme also means students studying for a conjoint degree where performance is not a major now have the chance to learn an instrument.
One student who has benefitted from the programme is Camryn Nel, who studied percussion. Camryn graduated with a conjoint degree in Music and Economics before completing a Bachelor of Music (Honours) majoring in Composition. Thanks to the Auxiliary Performance Stream, he was given the opportunity to study with Auckland Philharmonia Orchestra (APO) principal percussionist Eric Renick.
Camryn, who has played percussion for around five years, describes Eric as a "very energetic teacher" who not only helped developed his musical skills but also helped him gain valuable connections in the music community, allowing him to find students of his own to teach.
The 23-year-old has also had the opportunity to perform with the APO himself, an experience he describes as being "really exciting and challenging, but in a very good way".
Camryn's next move is to complete a teaching diploma, so he can go on and share his passion for music with high school students. As well as the practical skills that can be gained through learning an instrument, Camryn believes studying music – particularly classical music – can be a great way to acquire vital life skills such as discipline and perseverance. It's also a great way to hone your listening skills and learn to "be aware of things that are happening around you in a really productive way".
"Learning about commitments and having good people skills are essential to being a good musician," says Camryn, "and that's what I want to pass on as a teacher."
Media contact
Helen Borne | Communications Manager
Alumni Relations and Development
Email: h.borne@auckland.ac.nz