Hilary Chung's spirit lives on through Global Studies prize
A prize established to honour the late Dr Hilary Chung is helping to ensure the inspiring academic's spirit continues to live on at the University of Auckland.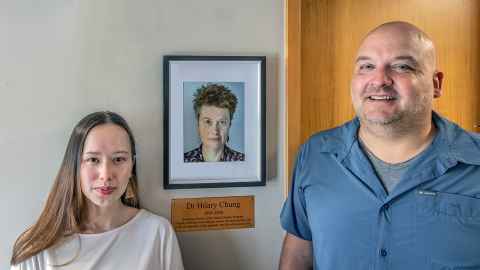 Founded in 2021, the Hilary Chung Prize in Global Studies is funded through an annual appeal and awarded to outstanding students who have graduated from the University's Global Studies programme. This year's winner is Katja Neef, who completed her Bachelor of Global Studies last year, with a major in sustainable development and the global environment.
The 22-year-old says the prize is particularly special to her given the influence Dr Chung had on her studies and also comes with "quite a big weight because it is representative of all her work".
"I'm incredibly grateful because of how big an impact she had on me."
Dr Chung passed away in 2020 after a years-long battle with cancer. Fluent in several languages, she was an expert in comparative literature and modern Chinese literature, as well as gender and representation in literature. As the founder and first director of the Global Studies programme, Dr Chung was not only well respected among her colleagues, she was beloved by students too.
Katja says she was inspired to enrol in the Global Studies programme after meeting Dr Chung at a University open day in 2018.
"I kind of had an idea that I wanted to do something in the social sciences and something around development, and she was running a stall, and she was telling me all the incredible things I can do through the degree. She pretty much said, anything you want to do, I'll make it happen," says Katja.
"I was completely sold by that point."
Born in Thailand, Katja grew up in Thailand and Japan, before moving to New Zealand nine years ago where she attended high school. And having accompanied her parents on development fieldwork throughout Southeast Asia as a child, she says she always knew she wanted to dedicate her career to "making changes and working in policy and advocating for different communities".
Right from the beginning of her studies, Katja says Dr Chung was always available as "that person of wisdom who would just be genuinely there for you".
"She was always so supportive, and she just wanted the best for all of her students, which I think was such a rare thing – to be so warm and wanting the best."
Currently headed by Dr Jamie Gillen, the Global Studies programme is designed to expose students to new ways of thinking about the world and help them apply their knowledge to make a real difference in issues they care about.
Trevor Hardy, Dr Chung's widower, says as well as the practical skills the programme teaches students, it's also helping to ensure his partner's spirit lives on at the University.
"When Hilary took on the development of the Global Studies degree programme, she already knew that she had cancer and that her lifespan was limited. I believe that in the opportunity to develop the programme she saw her chance to create a legacy: to leave something behind that was of real value and would offer a whole new stream of learning in a new context."
He says Dr Chung was also committed to embedding in the programme her philosophy that "students are the heart of the University".
"From the start, students were at the centre of her focus. She was determined that the programme would be run with a culture of academic performance combined with pastoral care – not only to provide resources for learning, career planning and mentorship but also personal support (sometimes outside the purview of study) in a wrap-around, supportive culture."
For Katja, who has just finished her honours degree in Geography, with a focus on human geography, and has also been recognised as a 2022 Kupe Leadership Scholar, the next step is to complete a masters degree before looking for full-time work in the NGO sector.
Media contact
Helen Borne | Communications Manager
Alumni Relations and Development
Email: h.borne@auckland.ac.nz