Finland shows how New Zealand could lift innovation
Finland ranks highly for innovation, New Zealand does not. Rod McNaughton suggests how we could do better.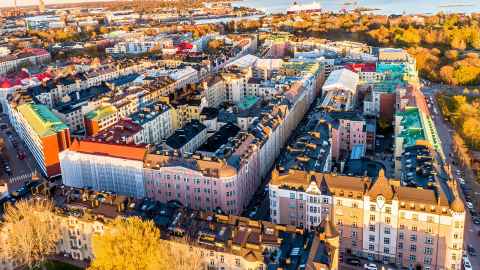 Opinion: Finland's Prime Minister Sanna Marin visited New Zealand last November, becoming the first Finnish leader to do so.
Marin's highly publicised meeting with the then Prime Minister Ardern prompted comparisons between the leaders and their country's performance.
According to the World Intellectual Property Organization (WIPO), a United Nations agency, New Zealand is the 24th most innovative country among 132 globally, up two places from 2021. But Finland - a similar-sized country - ranks 9th.
In addition to its superior innovation performance, Finland has less income inequality, a higher GDP per capita, and scores higher on the Human Development Index.
New Zealand's innovation score doesn't compare well against other small economies either. WIPO's 2022 Global Innovation Index ranks Singapore 7th in the world, Denmark 10th, and Israel 16th. Switzerland, a nation of about 8.5 million people, is the most innovative country. At least we can take consolation in having edged out Australia, which is ranked 25th.
When Q + A's Jack Tame asked Marin about the secret to Finland's success, she pointed to a cross-party commitment to increasing R&D expenditures. Finland has a goal, shared by all parties, to raise their R&D investments to 4 per cent of GDP by 2030. Finland's current expenditure on R&D is about 3 per cent of GDP, while New Zealand's is 1.4 per cent.
In election year it's a good time to think about New Zealand's policy setting and what we can learn from Fnland's success.
Finland and New Zealand's export profiles are also very different, with Finland's heavily weighted toward electronics and manufactured products, while primary industries dominate New Zealand's.
With an election this year, it is a good time to think about New Zealand's policy settings and what we can learn from the success of Finland and other small innovative countries. Where should we invest to increase innovation and boost New Zealand's economic and social well-being?
The Global Innovation Index benchmarks countries on 81 different measures, grouped into seven dimensions that underpin national innovativeness. Finland ranks well above New Zealand in all categories except our institutional environment.
There is one item where New Zealand excels that we might not want to be known for – a low cost of redundancy dismissal. We are first in the world for having low costs of dismissing employees, while Finland ranks 30th.
Compared to Finland, New Zealand's biggest weaknesses are a lack of business sophistication, challenges turning inputs into knowledge and technology outputs, and weak infrastructure. On several measures, New Zealand is significantly outside the range for high-income countries and is more similar to developing economies. These measures include education, capital formation, and low labour productivity growth.
With so much to do, it isn't easy to know where to start. Education seems a good bet, as a well-educated population arguably underpins many other measures. New Zealand has low funding per student and a high student-teacher ratio at the secondary level. But these are not relative strengths for Finland either, and their funding per pupil ranks lower than New Zealand's.
Similarly, Finland isn't a star performer when it comes to capital formation or labour productivity.
The starkest differences between New Zealand and Finland trace back to those R&D figures and the processes that transform R&D investment into economically valuable outputs. Finland invests more and delivers more innovation outputs than expected, given the global average, whereas New Zealand delivers fewer.
Finland does this through exceptional innovation linkages, including university-industry collaboration, the development of industry clusters, and international research collaboration and funding.
A potential bright spot, New Zealand has a high rate of new business formation, ranking 5th in the world compared to Finland's 26th. However, this hasn't yet translated into a more diversified economy, including high-tech manufacturing or export growth, for which Finland ranks highly.
Relatively low scores for knowledge diffusion, ICT adoption, growth capital, knowledge workers' availability, and science and engineering graduates may explain this.
Finland's example suggests that whatever party leads New Zealand's next government, innovation should be at the top of their agenda – not just increasing R&D expenditures but ensuring the processes that underpin our national innovation system function well.
The potential benefits of increasing our innovativeness are huge. Finland's GDP per capita is 16 per cent higher than New Zealand's, and Switzerland's is a whopping 70 per cent higher. Matching Finland would add another $US 35 billion annually to our economy. The government's share would help fund much-needed improvements in healthcare, education, and other public goods essential to Kiwis' well-being.
Rod McNaughton is Professor of Entrepreneurship and Director Innovation and Professional Development at the University of Auckland Business School.
This article reflects the opinion of the author and not necessarily the views of Waipapa Taumata Rau University of Auckland.
This article was first published on Newsroom.
Media contact
Margo White I Research Communications Editor
Mob 021 926 408
Email margo.white@auckland.ac.nz