Te Matatini: Kia Ūkaipō Anō Te Reo – director talks revitalisation through kapa haka
Hēmi Dale is the director of Māori Medium Education and Huarahi Māori in the Faculty of Education and Social Work. He is leading the revision of the NCEA standards for Tikanga ā Iwi.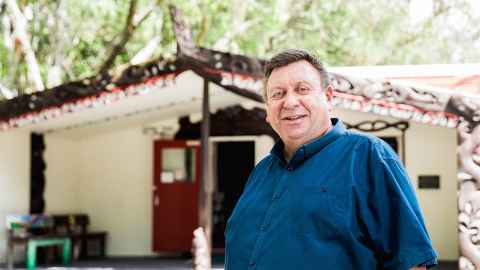 In 2021, it was announced that a new NCEA subject, Te Ao Kapa Haka (the world of Kapa Haka), would be implemented in Aotearoa New Zealand's secondary school curriciulum.
Hēmi Dale (Te Rarawa, Te Aupōuri) is the Tīkanga ā Iwi lead for its development and says kapa haka is a window to Māori language revitalisation.
"Kia ūkaipō anō te reo," he says.
Waipapa Taumata Rau, the University of Auckland, is a sponsor of this years national kapa haka festival, Te Matatini, which translates to "the many faces". It will be held at Eden Park in Auckland this February and is expected to attract tens of thousands of loyal Matatini fans from across the country and more than one million viewers online.
The festival was founded in 1972, the same year the Māori language petition was presented to parliament. It was originally named 'The Polynesian Cultural Festival' and its purpose was to revive Māori culture.
Hēmi Dale attended Māngere College during that time and had the option of learning either te reo Māori or French.
"The obvious choice for me was to learn te reo. It was thanks to Ngā Tamatoa and Te Reo Māori Society that I had that option.
"It was the time where the thinking was: 'You can't get anywhere with te reo Māori, French is the better option', and that te reo Māori wouldn't be able to cope with the demands of the modern world.
"Growing up with 27 cousins and with only about four of us who could speak Māori prompted me to learn about why this was so, and how we've been shaped by government policy – and that experience is one that's played out across many families." He says.
Dale says te reo revitalisation is his life, having spent 28 years teaching at the Univeristy's Huarahi Māori immersion teacher training programme since its inception.
"I stuck to it because I believe in providing opportunities for te reo Māori to thrive.
"Kapa haka connects us to Te Ao Māori and te reo Māori. It showcases innovation and creativity at the highest level, and covers many disciplines within the Māori world. We should maximise learning opportunities around that."
Te Ao Kapa Haka for secondary schools is still in the works as the standards for NCEA Level 3 is being finalised. Te Ao Kapa Haka will pilot across 30 secondary schools and will complement the introduction of Te Takanga o te Wā, and Aotearoa New Zealand Histories which will begin in February.

"Tā Mason Durie identified that education needs to enable our children to stand tall in Te Ao Māori," Dale says.
Kapa Haka, especially within a Matatini framework, affirms identity and immerses children in te reo and Mātauranga Māori. Dale says the compositions are informed by contemporary issues and call us to action.
"It's an opportunity for each group to showcase their tikanga ā iwi through te reo."
Whakatauākī meaning:
Kia Ūkaipō Anō te Reo – Revitalise and normalise te reo Māori in the home and community.

Waipapa Taumata Rau, the University of Auckland, is a sponsor of Te Matatini Kapa Haka Festival 2023, in partnership with the University's Iwi-manaaki and hosting rohe, Ngāti Whātua Ōrākei. Te Matatini brings together the country's most elite kapa haka groups in celebration of Māori culture. The festival is held biennially in different cities and is welcomed back to Tāmaki Makaurau after 21 years. The University of Auckland's sponsorship aligns with Taumata Teitei, the University's strategy to enhance kaupapa Māori.
Media contact

Te Rina Triponel | Kaitohutohu Pāpāho Māori