Rainbow Law students fight for health equity
Equity group Rainbow Law is campaigning for inclusive insurance policies that cater to all health needs, regardless of gender and sexual identity.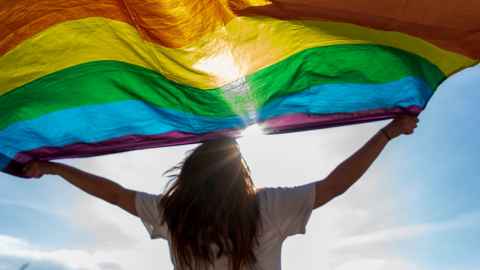 This Pride month, equity group Rainbow Law won something akin to a pot of gold when they took out the inaugural Te Whainga i te Tika award for their outstanding contribution to social justice.

The award, in honour of academic activist Professor Emeritus Jane Kelsey, will support Rainbow Law's equitable healthcare campaign, which is raising awareness and advocating for change to ensure international students have equal access to the same level of healthcare and support as residents of New Zealand.

"Receiving the award is so impactful for us," says Rainbow Law's 2022 co-president Arela Jiang. "It's a huge opportunity that will help us to develop a very structured campaign during this election year to bring awareness to political groups across the spectrum."

New Zealand immigration laws require international students to hold private health insurance, and currently, the University regulates which insurance companies they can use.

Unfortunately, says Arela, the policies that international students must sign up to don't cover many sexual health-related costs, for example, fertility services and pre-exposure prophylaxis (PrEP), an anti-viral medicine that can lower a person's chance of HIV infection.

"Such policies disproportionately affect people of different gender identities, sexual orientations and sexual characteristics."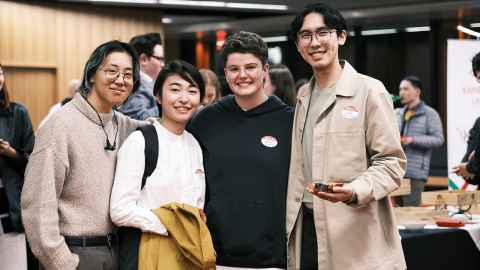 Rainbow Law's equitable healthcare campaign stems from lived experiences of discrimination, and the group has been working with, and beyond, the University to address the discriminatory policies of insurance providers.

One of Rainbow Law's members, Brandon, who came to Aotearoa as an international student, faced significant burdens as a result of the way things are currently set up. His story was the original motivation for the campaign.

"During his studies, Brandon's spending was mostly overseen by his parents, and purchasing PrEP would have generated a conversation that he wasn't ready to have," says Arela.

"This kind of situation can result in someone getting into a tough position financially, or with their family, and it can result in a person being more inclined to risk exposing themselves to HIV."

Non-residents have to pay approximately ten times the price of New Zealand residents for the same prescription of PrEP, says Arela. As such, Rainbow Law is advocating for the anti-viral to be available at no or low cost to everyone, regardless of their immigration status.

"We are calling for legislative change in time for the 2023 election to increase accessibility to PrEP, and we're working to ensure that immigrants have equal access to the same quality of healthcare and support as residents of New Zealand.

"Thanks to Jane Kelsey and her legacy, which has diffused throughout the University, we can push even harder to progress our campaign."
About Te Whainga i Te Tika Award for Social Justice:
The award was established in 2022 to honour the social justice research, teaching and activism of Professor Jane Kelsey on her retirement from Waipapa Taumata Rau, University of Auckland. The Award is funded by a range of donors, and its primary purpose is to recognise outstanding contributions to social justice in Aotearoa New Zealand or internationally. 
About Rainbow Law:
Rainbow Law is an equity group at the University of Auckland. They are committed to advocating for positive change and providing resources for the University, the legal field and wider society about the intersection of the law and the Rainbow community. The association aims to ensure the cultural, social and legal welfare of the Rainbow community at the University of Auckland and beyond. Everything Rainbow Law does is premised on one of three core values: Whanaungatanga (to connect), Mōhiotanga (to understand), and Kōkirikiri (to campaign).
Media contact
Sophie Boladeras, Media adviser
M: 022 4600 388
E: sophie.boladeras@auckland.ac.nz