Another crisis, another responsibility for schools
Opinion: Schools play an integral but often unrecognised and unacknowledged role in helping communities respond to and recover from disasters, says Carol Mutch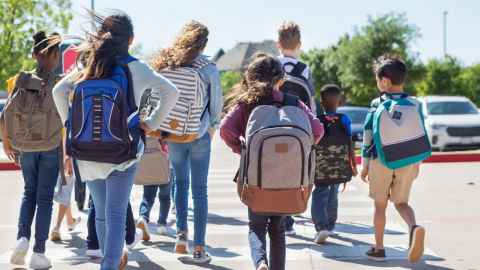 Schools in Auckland and other flood-affected areas are about to re-open after a delayed start to the new school year. Students will return to school having experienced wide-ranging impacts. While some will only have seen the worst effects on their television screens, others will have lost everything – their homes, their possessions and their sense of safety and security.
Traumatic events, such as weather-related disasters, affect students differently. Some will slip back easily into school routines, excited to catch up with their friends. Some will be anxious and nervous, wondering if the next fall of rain will another big one. Others will be quiet and withdrawn, not ready to process what has happened. Some will be clingy and tearful, others hyper-alert and acting out. Some will appear fine but will start behaving out of character much later. These are only some of the responses I have recorded in more than a decade of research on the role of schools in disasters and crises.
We know most children will recover in time given opportunities to process what they have experienced and where they have learned strategies to calm themselves and to overcome setbacks. A proportion, however, will need specialist support beyond what schools can provide.
We also know some children are more at risk of ongoing trauma because of their proximity to the disaster, the more serious nature of the loss or injury they sustained, prior mental health issues or previous traumatic experiences. These experiences might arise from personal or family circumstances, but they might also be connected to recent community events of which Auckland has had its share – the 2021 LynnMall terror attack, the 2021 West Auckland floods, the repeated Covid-19 lockdowns and now two severe floods in several days. Trauma from each of these events can accumulate and make the recovery from the latest event even harder.
At the individual student level, there is a need not just to look back at the events but to look forward. What can be learned at a personal and collective level in practical terms, such as preparation for future events but also in terms of what we can learn about ourselves as a community or a nation?
And who will play a major role in helping more than 250,000 school students in the Auckland region process their flood experiences and settle into a calmer frame of mind? Schools.
My research in the Asia-Pacific region, involving six types of disaster, has concluded that schools play an integral, but often unrecognised and unacknowledged role in helping communities respond to and recover from disasters. This post-disaster role extends well beyond their educative responsibility and can be seen at four levels: community, school, classroom, and individual.
In ordinary times, schools are often the hubs of their communities. In times of trauma, this role becomes more important. They might be emergency shelters, relief hubs, communication centres or just places where parents and families can go for advice, support or a comforting word. My research into the Covid-19 lockdowns showed that parents and communities came to understand and appreciate the extra work that goes on behind the scenes in preparation for the delivery of learning.
They also witnessed firsthand schools' pastoral care and community support. Schools organised devices, sent out packs of learning materials, dropped off essential food and supplies and checked on the welfare of their families.
At the school level, leadership plays a key role. One theme from my research highlighted how school leaders become crisis managers. They have to make sense of all the information coming in, shape communications to go out to their school communities, check accessibility and suitability of school facilities, delegate tasks, organise resources and deal with a myriad of calls on their time. In prolonged disaster events, this effort takes a toll on leaders' physical and mental health.
At the classroom level, teachers are faced with students who have experienced widely varying impacts. Some are ready for learning, many are not. Rebuilding relationships and returning to familiar activities helps students regain a sense of safety and security. Research on returning to school after Covid-19 lockdowns highlighted that students needed opportunities to process their experiences. Many schools turned to the arts. Whether it was picture books for younger children to relate their stories to a fictional character or drama for older students to physical and vocally express their emotions, students began to absorb the events into their personal and collective histories.
At the individual student level, there is a need not just to look back at the events but to look forward. What can be learned at a personal and collective level in practical terms, such as preparation for future events but also in terms of what we can learn about ourselves as a community or a nation? My research showed that while students can be vulnerable, they are not helpless. They flourish when they are given opportunities to help others, engage in problem solving, planning for the future and exercising citizenship.
The Ministry of Education has said schools can now open if it is safe for them to do so. Parents are collectively breathing a sigh of relief. Some can get on with cleaning up, dealing with insurance claims and rebuilding their lives. Others can return to work to get the city up and running again. It is important to remember, however, that principals and teachers might also live in affected areas. Despite whatever is going on in their lives, they will put on their best smiles, welcome students back, listen to their stories, find engaging activities for them to do and gently move back into the full curriculum.
When you drop your children off to school in the coming days remember to say thank you.
Carol Mutch is a professor in critical studies in education at the University of Auckland. She is also the Education Commissioner for the New Zealand National Commission for UNESCO.
This article reflects the opinion of the author and not necessarily the views of Waipapa Taumata Rau University of Auckland.
This article was first published on Newsroom, Another crisis, another responsibility for schools, 4 February, 2023
Media contact
Margo White I Media adviser
Mob 021 926 408
Email margo.white@auckland.ac.nz