Te Matatini: From small hometown to big stage
University student Puna Whakaata Maniapoto-Love is excited to celebrate Māori culture and connect with whānau when she takes to the stage in the world's biggest kapa haka competition.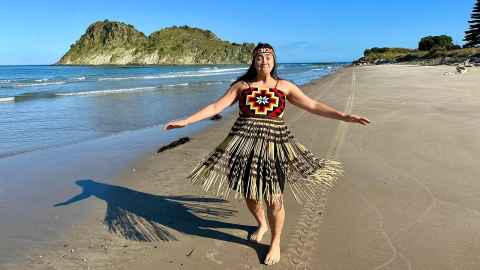 "Ko Puna Whakaata Maniapoto-Love tōku ingoa. I te taha o tōku papa, he uri ahau nō te kaiekee tohorā Paikea-Ariki, ko Whāngara te wā kainga, waihoki, he pānga ōku ki te awa o Whanganui, ko Kaiwhaiki te wā kainga.
I te taha o tōku māma, he uri ahau nō Te Arawa waka. Ko Te Rangiita me Rotorua ngā wā kainga. I tipu ake ahau ki roto o Whāngara mai tawhiti i waenganui i tōku whānau o Ngāti Konohi mai tōku pepitanga."
Puna Whakaata Maniapoto-Love, who hails from Te Rangiita and Rotorua, is studying towards a conjoint Bachelor of Laws and Bachelor of Arts. Following her studies, the talented kapa haka performer aspires to specialise in te taiao and whenua Māori, and hopes to use her mātauranga to work with iwi and provide legal support.
"Firstly, I want to travel and explore the world. Following that, I would love to work in a Māori firm or with Māori consultants to help our people."
This week, Puna Whakaata will perform for the first time at the much-anticipated national kapa haka festival, Te Matatini, with her roopu (group), Whāngara mai Tāwhiti.
"I've been a part of Whāngara mai Tāwhiti since I was pretty much a baby, but I've been doing kapa haka since I was five," Puna Whakaata says.
She says Te Matatini is special in that it enables all involed to learn a lot and to connect to whānau.
"We get to learn kōrero about our iwi and hapū, which is very important to me. The learning aspect of this Te Matatini campaign makes it so special.
"Te Matatini to me is more than being able to perform and compete on stage. It's important  because I can do what I love with my whānau. We are fortunate in our roopu to sing waiata about people who are significant to us.
"I'm keen to watch all the teams, heaps of my friends are performing for different roopu which is very exciting."
Puna Whakaata says Te Matatini is a space to hear stories of other iwi, hapū, whānau or rohe, and that kapa haka is a way to acknowledge tīpuna and stay connected to them.
"Te Matatini is the world's biggest kapa haka competition, with kapa from all over the country. It is a one-of-a-kind competition that keeps us connected to our kāinga. It keeps our culture alive and helps it to thrive."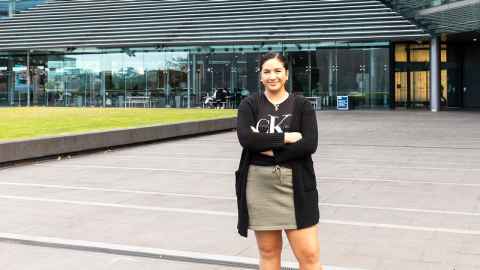 Waipapa Taumata Rau, the University of Auckland, is a sponsor of Te Matatini Herenga Waka Herenga Tangata National Kapa Haka Festival 2023, with the support of the University's Iwi-manaaki and hosting rohe, Ngāti Whātua Ōrākei.
Te Matatini brings together the country's most elite Kapa Haka groups in celebration of Māori culture. The festival is held biennually in different cities and is welcomed back to Tāmaki Makaurau after 21 years. The University of Auckland's sponsorship aligns with Taumata Teitei, the University's strategy to enhance kaupapa Māori.