Haka expert and kaupapa Māori researcher to judge Te Matatini
Waipapa Taumata Rau principal teaching fellow Paora Sharples is chair of Tāmaki Kapa Haka and one of 40 Te Matatini judges. He says kapa haka isn't just cultural revitalisation, but the vehicle for Māori excellence.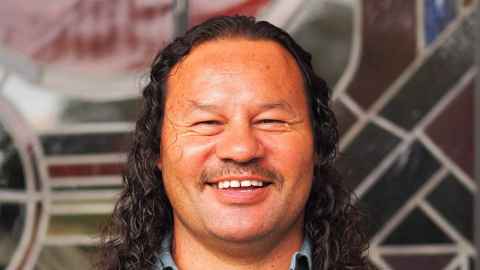 Te Matatini is not just cultural revitalisation, for Māori, it's normalisation, says Paora Sharples.
Paora (Ngāti Kahungungu, Ngāti Porou) is the kaihautū tīkanga at Ngā Pae o te Māramatanga, and a principal teaching fellow in Māori Studies at Waipapa Taumata Rau, University of Auckland.
He lectures in kapa haka, traditional and contemporary Māori performing arts, and te reo Māori.
He is also the chair of Tāmaki Kapa Haka, and a judge for this years' Te Matatini at Eden Park which kicks off today.
"It's the biggest event on the Māori calendar," he says.
"It's one of the best mediums that we have today to celebrate Te Ao Māori and the greatest manifestation of Māori performing arts."
Sharples says recent research led by Waipapa Taumauta Rau at Ngā Pae o te Māramatanga explored the value of kapa haka in Aotearoa New Zealand society.
"It lifts the education rates, significantly improves physical fitness, and contributes to te reo revitalisation and normalisation."

"The place that Matatini holds cannot be underestimated, especially for us urban Māori who live here [in cities]. We're disconnected from our haukainga, and kapa haka is that link to our tīpuna, our homelands."
Kapa haka is also a window to understanding the values of Te Ao Māori, and the mana that is upheld by both an individual and the whānau, as a kapa, as a region, as an iwi, and as a hapū. [The mana] transcends decades of generations, Paora says.
"Kapa haka is all about rangatiratanga, manaakitanga, kaitiakitanga, your identity, and to become all you can be.
"Matatini provides a model of Māori excellence. Kapa haka can discipline you to apply these values to other parts of your life, which can strengthen your mental, emotional, physical, and spiritual."
Te Matatini has been postponed twice since 2019 following the rise of the coronavirus, and Paora says it's had a large effect on many kaihaka, emphasising the integral role it plays in Te Ao Māori.
He acknowledges the many hardships the nation has faced since 2019, and especially the last two weeks with the recent floods in Tāmaki Makaurau, and the cyclone that's destroyed many homes on the east coast, Hawkes Bay and in the north, some of whom are kaihaka at Te Matatini.
"The void of Te Matatini has made a significant impact on Te Ao Māori. I don't think we could have foreseen just how big the effect would be on people."
"Look at what we've been through in the last four years – let alone two weeks. We've got 2,000 performers and they're ready to unleash.
"It's really needed to lift us as a people. If we don't have this outlet, it could have a negative effect and have consequences later on, and research has proven that."
However, Aotearoa New Zealand has only "scratched the surface" as to how empowering kapa haka could be and Te Matatini provides an opportunity in order to understand it's true value, Paora says.
While Paora was still in secondary school, he attended his first Te Matatini in 1981 as a spectator when it was formerly known as Polynesian Cultural Festival. It was then a three-day event and held at Avondale Racecourse in Tāmaki Makaurau, 42 years ago.
The inception of Te Matatini was during a time of near cultural extinction, according to Kīngi Matutaera Īhaka who was chairman of Aotearoa Māori Performing Arts Festival and of the Council for Māori and South Pacific Arts at the time.
Īhaka believed that [Polynesian Cultural Festival] did not have the right structure to survive and needed urgent re-assessment, including a name change which later became Te Matatini. The aim was then to raise the quality of performance, songs, haka, and poi.
The prestigious festival has since developed in numbers, both in performers and audience.
Paora says it's grown in popularity and accessibility, with more than one-million viewers online and up to 60,000 attendees.
"It's advanced hugely. Not only in the singing, but overall performance choreography too, they're more dynamic presentations.
"There's a quality of real depth of knowledge that's coming through as well.
"The front and the positioning of cameras has changed, allowing whānau at home to get a better experience. Even 15 years ago the difference in filming is huge."
As a judge, Paora says it's important to be good hosts.
"Although the competition is on stage, there's another competition off stage and that's to show hospitality and manaakitanga.
"So as the chair of our host committee, I'm looking forward to Tāmaki coming together to be excellent hosts for the 2000 or so performers, and for the thousands who will be attending each day."

Te Matatini 2023 has officially launched today and will end 25 February.
Waipapa Taumata Rau, the University of Auckland, is a sponsor of Te Matatini Herenga Waka Herenga Tangata National Kapa Haka Festival 2023, in support with the University's Iwi-manaaki and hosting rohe, Ngāti Whātua Ōrākei. Te Matatini brings together the country's most elite Kapa Haka groups in celebration of Māori culture. The festival is held biennually in different cities and is welcomed back to Tāmaki Makaurau after 21 years. The University of Auckland's sponsorship aligns with Taumata Teitei, the University's strategy to enhance kaupapa Māori.