Expert launches ground-breaking therapy for Māori kaumātua with dementia
Haumanu Whakaohooho Whakāro – Māori is a type of Cognitive Stimulation Therapy (CST) and the first to be specifically adapted for Māori kaumātua.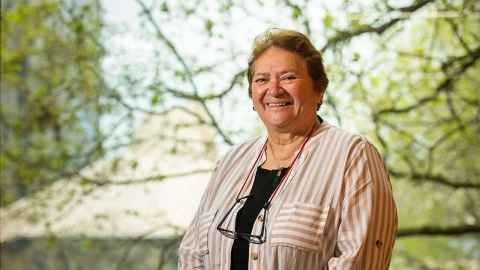 Māori with mild to moderate mate wareware or dementia, will now have access to a new and tailored therapy that can improve their quality of life, thanks to Dr Makarena Dudley (Te Rarawa, Ngāti Kahu), a researcher at the Centre of Brain Research at Waipapa Taumata Rau, with support from Alzheimers NZ.
She says Haumanu Whakaohooho Whakāro – Māori is a significant step in Aotearoa New Zealand's efforts to provide valuable and viable dementia care. The manual for Haumanu Whakaohooho Whakāro – Māori will be launched at Te Mahurehure Marae (Tāmaki Makaurau) on March 1.
"CST has shown to improve cognitive functioning and quality of life with people who are in the early to moderate stages of dementia," Dudley says.
"But I think for any intervention to be effective, it must fit within the cultural context of the person who is receiving it.
"There was evidence of this when we spoke to kaumātua with mate wareware on the marae for that window of time, all the difficulties they were experiencing – the confusion, the inability to find the right words, and so on – disappeared.
"And so Haumanu Whakaohooho Whakāro – Māori has been embedded within a Māori environment, both physically and mentally."
The therapy comprises 15 activity-based sessions held twice weekly for seven weeks with groups of up to eight people.
Based on theoretical concepts of reality orientation, validation, reminiscence and cognitive stimulation, each session has a different focus.
These can include topics such as sounds, orientation, childhood, food, physical games and current affairs – all of which stimulates thinking and memory recall.
"There is very little support available for whānau living with mate wareware in the community, and it's essential for participants to have fun and enjoy the sessions," Dudley says.
"CST can address that gap by providing a platform for whānau to engage in a programme that has the potential to slow down the progress of mate wareware, in an environment that is embedded in tikanga Māori and Te Ao Māori."
Alzheimers NZ Chief Executive Catherine Hall is delighted to have partnered with Dr Dudley for this important mahi and looks forward to Aotearoa New Zealand's first ever Māori CST programme being available.
"This work is incredibly important as it will support Māori and people living with dementia mate wareware to live their best possible lives in their communities."
Collaborations on this project include Clinical Neuropsychologist Dr Tai Kake (Ngāpuhi), Alzheimers NZ's Dementia Learning Centre Director Dr Kathy Peri and School of Medicine Associate Professor at the University of Auckland Dr Gary Cheung.
Following the launch, Dr Dudley will continue to work with Alzheimers NZ to train Māori CST facilitators and then help deliver the adapted programmes.