Introducing the new Deputy Vice-Chancellor Research
Liggins Institute director Professor Frank Bloomfield is taking on a new role. This year he will lead research across the University as the new Deputy Vice-Chancellor, Research.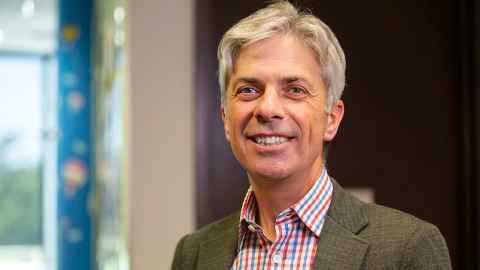 Professor Frank Bloomfield, perhaps, only half in jest, describes the new role as his own 'Hillary step'.
He leaves his present role as Director of the Liggins Institute to one where he, along with the Vice-Chancellor Professor Dawn Freshwater, will lead the University's research policy and strategy, research management and performance. For all intents and purposes, the role becomes the face of the University's research, which accounts for more than $390m in annual revenue. He will be responsible for the work to support the University's role as the country's leading research institution.
Bloomfield says, "I really think a key part of the role is lifting the ability of University researchers to work together towards common goals and also make sure that our research has the maximum benefit for the communities that we serve, whether it's a local community or relevant to the global community."
He applauds the initiatives underway to enhance collaboration. The University is entering a new phase. "How can we harness collaborative energy in the right way? I'd also like to grow the external end use of our research. We do a large amount of this already, but how can we open our research capability to external partners to showcase the excellent work we do?"
Science and research policy is a hotly debated topic. The Government's Te Ara Paerangi-Future Pathways White Paper sets out a high-level view for change in the country's research, science and innovation system. It paints a landscape that is fragmented, with funding mechanisms that sets up winners vs losers rather than collaboration and the lack of a big picture view of where research, science and innovation should take us. There is talk of national research priorities.
Two perennial issues remain. First, how to balance the spread of mission-led research against the need for investigator-initiated research? Bloomfield: "We need to make sure we don't lose the latter element as it's absolutely critical to innovation."
Second, like all research, the scope and ambition are ultimately set by public investment. Despite the consensus that New Zealand's investment in research, science and innovation needs to be lifted to at least two percent of GDP, it remains at 1.4, against an OECD average of 2.68 and an Australian investment of about 1.83 percent.
This will always be one of the key things, the amount of our GDP we spend on research, which is well below where it should be.
"This will always be one of the key things, the amount of our GDP we spend on research, which is well below where it should be," he says.
Asked what his first steps in the role will be, Professor Bloomfield says, "One is capitalising on the new University Research Centres and the across-University research platforms, a further recent initiative. The second is to review and refine the research support services for the University to resolve the current pain points."
By background Professor Bloomfield has spent his career caring for preterm babies and researching how best to help them survive their rocky start to life. Worldwide, each year about 15 million babies are born preterm, that is, before completing 37 weeks of gestation.
Complications from preterm birth are the leading causes of death among children under five. Preterm births are not as uncommon as many might think, at almost eight percent of all births in Aotearoa New Zealand.
As a clinician Bloomfield has worked as an intensive care neonatologist, a role requiring the ability to make quick decisions under intense pressure and fast-changing circumstances. When he and his family lived in Toronto, Bloomfield was a member of the urgent retrieval team at SickKids, Canada's largest children's hospital.
Ontario is vast and he recalls one trip to Thunder Bay and back in the depths of winter, a 2600km round trip, in a small plane with a tiny baby in critical condition.
Medical retrieval teams work under urgency at any time of the day or night, in whatever weather conditions are present. Once he had to cope with the failure of a plane's electronic systems. Another time saw a hasty landing in a helicopter in the middle of nowhere due to stormy weather.
Originally Bloomfield had set out to work in immunology – in addition to his medical qualifications he has a degree in the subject. But as a final year medical student on rotation in paediatrics, something clicked, and his path changed. "There's something in the combination of factors to do with new-born babies. I love babies for a start."
He found the challenge preterm births present stimulating. For these babies the situation is never the same and the field of neonatal care, especially intensive care, was young in the early 1980s, with the first neonatal training programme dating back only to the 1970s. He says, "Right up until the 1960s, we didn't do very much for preterm births. Babies did survive. They were well cared for, kept warm and fed, but then either they died, or they didn't."
There was much to explore and learn. Preterm birth complications cover every clinical area you can think of; heart, brain, respiratory, immunology and gastrointestinal systems. And he found the impact of success profound, enabling a preterm baby the chance to lead a good life. There is a long list of preterm babies who survived to later change the world, from Johannes Kepler to Sir Isaac Newton and Stevie Wonder.
Years ahead
Bloomfield arrived in New Zealand in 1994, initially for a job at National Women's Hospital, then situated at Greenlane. He was drawn by its reputation. "I had been at St Mary's Hospital in Manchester, a leading neonatal hospital run by highly respected clinical leaders. When I came here, I was just amazed. National Women's Hospital was years ahead of St Mary's. It was a different environment and atmosphere. It was fantastic."
At National Women's he met Jane Harding, now Distinguished Professor Dame Jane Harding and co-founder of the Liggins Institute. He became National Women's first neonatal research fellow. He then took three years out of clinical medicine to undertake a PhD under Jane Harding's supervision, followed by a post-doctoral fellowship at the University of Toronto.
Following this, in 2002 he took up a dual role, at Auckland City Hospital and at the Liggins Institute, and was appointed Professor in Neonatology in 2013. Since 2015, he has been the Director of the Liggins Institute, combining this with a reduced clinical role in the neonatal intensive care unit until 2020, when he relinquished his clinical role.
"I will miss the Liggins Institute. It's a great place, full of terrific people, doing strong research. This new role is a big one, I plan to keep my research going. I've still got on-going research contracts and PhD students, so will need to keep those going as best I can."