Pacific excellence at ASB Polyfest
This year the Auckland Secondary Schools Māori and Pacific Islands cultural festival celebrates its 48th year, and Waipapa Taumata Rau is sponsoring the Samoan Stage once again.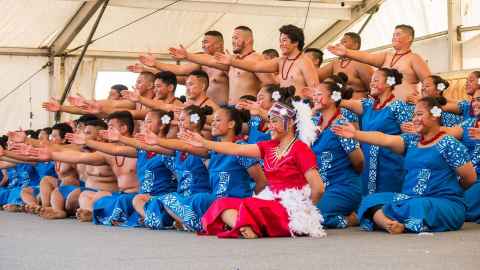 Lemoa Henry Fesuluai is the Samoan language lecturer for the University. He is also a long time high school teacher, spending much of his time still connected to Mangere College and his South Auckland roots. Lemoa has been involved with Polyfest for over ten years in various capacities. This year, he will be centre stage once again.
Lemoa will be the emcee for the Samoan stage, sponsored by Waipapa Taumata Rau, and plays a pivotal role in the organising committee for the wider Samoan community.
"The running of the Samoan stage is like a well oiled machine", explains Lemoa. "There is a Samoan stage committee of which I am a part,  led by senior figures from the community, Toesulu Brown and Melengalenuu Ah Sam.
"Our role is to listen and serve them as best we can as their younger counterparts. This ensures a smooth process for our people as we move to celebrate our students and culture."
This year, like previous years, the Office of the Pro Vice-Chancellor Pacific (OPVCP), Waipapa Taumata Rau, is sponsoring the Samoan stage and what this means in the literal sense is funding the stage itself, manaaki for the judges, having promotional spaces for the University and providing kaimahi for the festival.
Lemoa's role is to be the face and representative of the OPVCP on stage and at the launch and flag raising. He is not alone in his work. There is a small but mighty team from the OPVCP working behind the scenes to serve not only our University community but the wider Samoan community, including the students who will perform.
"It is a very busy time and you really see how much it means to students to be on that stage and how engaged and passionate they are. As a team, we are pleased with how it has gone so far but the really stressful time is the actual week of the festival. Although I know we will be fine as we have worked very hard for our community."
Lemoa credits strong Samoan language programmes in high schools for much of the success of the Samoan stage.
"Seeing young students up on stage performing and being proud of who they are, and especially the language aspect of that, is a real testament to Pacific excellence within our high schools and community.
"We see it transfer across into our young tertiary students who enrol in our language programmes too. They are invigorated by the festival and it is a reminder to continue to carry the legacy of culture throughout their studies."
The kaupapa of this year's Polyfest is 'Mana Motuhake' - 'creating one's destiny'. Hosted by McAuley High School, Polyfest runs from Wednesday 8 March to Saturday 11 March at the Manukau Sports Bowl for the Cook Islands, Diversity, Niue and Tongan stages.
It also runs from Monday 3 April to Wednesday 5 April at Due Drop Events Centre for the Māori stage.