Women, allyship and equity in financial literacy
Legitimacy in business, advice for female entrepreneurs, allyship and equity in financial literacy are just a few of the topics discussed in an interview with Girls That Invest founder Simran Kaur for International Women's Day.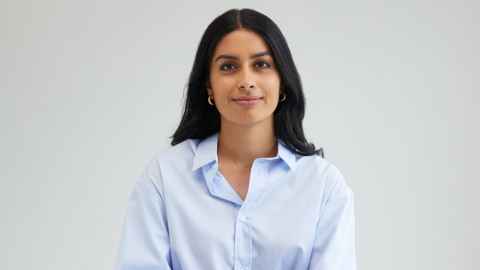 Simran Kaur's journey from optometry student to best-selling author, popular podcaster and everything in between is highlighted in a women's day discussion with professor Chris Woods, director of the Aotearoa Centre for Enterprising Women and Theresa Gattung Chair for Women in Entrepreneurship.

At a young age Simran became aware of the power imbalance between men and women, and says that in part, her desire for financial literacy stemmed from her experiences as a young woman in a patriarchal culture.

"I was a very strong feminist growing up, and I cared about having independence. I think this came from realising that there was a huge power imbalance between men and women, often fuelled by a financial imbalance," she says.

"I remember going to a party and a woman there, a kind of aunty figure, asked me what I would like to be when I grew up. I was about eight years old, and I thought I should probably say a doctor or something healthcare related. My parents were beside me, so I figured I should probably say something smart. And I remember the aunty saying, 'You should be an optometrist; that's a good career because when you grow up, and when it comes to getting married or choosing a partner, you can say no, because you have more options'.

"I thought it was an odd thing to say. But I started to see what she meant.

"In a culture that was so patriarchal having money meant you could say, well, I can stand on my own two feet. I don't need to say yes to that guy, or, I don't need that terrible job where my boss makes me uncomfortable. I don't need to maybe stay in a family situation where I'm being disrespected, or I'm unsafe. And so, the desire to be financially literate myself came from a very personal experience."
I'm not the first one to write a book or create a podcast on financial literacy. But I'm one of the first to put considerable emphasis on equitable outcomes.
Simran, who was passionate about healthcare, math and science, did eventually decide to embark on optometry studies, but near the end of her degree she began to set her sights on something a little different.

"Near the end of my degree, I took an international business elective and a marketing elective, and I really found quite a passion for it. I went further and studied financial markets online through Yale, which was very interesting. And that's when I thought, this stuff is really easy. Why is no one teaching us this?"

This was the beginning of Girls That Invest, which has become a global movement and destination for women to learn about financial literacy. The seven-figure business includes a top international podcast, a bestselling book, and a six-week investing masterclass. Meanwhile, Kaur aspires to one day deploy capital back into the world.

"I'd like to imagine that in the next ten years, Girls That Invest starts providing some kind of incubator or accelerator, something that puts money back into female entrepreneurs' hands because, you know, nothing bad happens when women have more money."

Another topic raised as part of the women's day interview, one that holds a lot of interest for Professor Woods from the perspective of working with Māori as a Pakeha woman, is allyship.
"I think allyship is so important," says Simran. "I grew up as a hyper-independent woman, which I think many female business owners tend to be. So I kind of thought, it's on me; I'm on my own, I can do this myself, and I don't necessarily need outside help. That's kind of how I began my journey. But I have to say, I've learned that the opposite is true. And that having allyship, from men, from other groups of people, has been huge to our success."

With the theme of International Women's Day 2023 being about embracing equity, Dr Woods and Simran also discuss how Girls That Invest is helping to raise the bar in terms of targeting materials that help to develop financial literacy towards girls and women.

"I love that this year's topic is about equity," says Simran.

"I'm not the first one to write a book or create a podcast on financial literacy. But I'm one of the first to put considerable emphasis on equitable outcomes. Women don't invest as often as we should, and we don't get as much access to financial literacy."

She says if we want to push for equity, we have to take a few more steps forward "and really push for a certain group of people and consider the language, the tone, the colours, the faces, the brand message.

"This should scream; 'I'm meant to be allowed here. This is for me', and then we'll have women, people of colour, and minorities turning up in these spaces; otherwise, they won't."

Watch the full interview.