A step change for marine science research
The launch of the University of Auckland's new marine science research vessel, Te Kaihōpara (the explorer), is being hailed as a step change in capacity to improve understanding of the marine environment.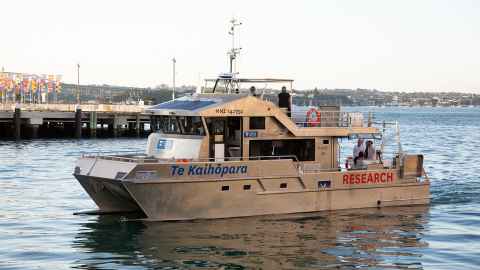 With the ability to deploy increasingly sophisticated equipment like cameras and remotely operated vehicles to explore coastal and continental shelves, the 15.9 metre aluminium vessel also has ample deck space that allows for up to 20 students to participate.
"We can make it a much more lived experience, because one of the big problems with marine ecosystems is that for many people they're out of sight and out of mind," says Professor Simon Thrush, Director of the Institute of Marine Science.
Te Kaihōpara also signifies a decade of support by one of its major donors, the German philanthropist Dr Beate Schuler, who co-founded a successful pharmaceutical company in Ireland with her father and also funds universities in Germany and Ireland.
Having identified New Zealand as a "safe haven" for property investment, Beate was inspired by Auckland's marine science research and the need to do something for oceans that are being overfished. "I wanted to support excellence, that was clear, and the University of Auckland is an outstanding university on a world scale," she says.
As a member of the University's Sir Maurice O'Rorke Society, which recognises donations of more than $5 million, Beate has funded a series of initiatives primarily through the Oceans of Change project which has addressed challenging research questions about kelp forest restoration, understanding crayfish habitats and assessing the value of marine protection to the wider snapper population in the Hauraki Gulf. 
"Her funding has been important in allowing us to do risky science which is not necessarily what the Government wants to see," says Simon. "It's about the future of all of us, because one way and another we all rely on the ocean."
From its base at the Leigh Marine Laboratory, the Institute has also fostered an ongoing relationship with the local iwi, Ngāti Manuhiri, regarding their concerns about overfishing which has led to a rāhui being imposed to protect shellfish beds from exploitation.
Of particular interest are the waters around Little Barrier Island (Hauturu), where an evidence-based case is being built that aligns with iwi aspirations to ring the island with a marine protected area that restores ecology and biodiversity. "It provides us the opportunity to build collaborations and networks such as with Ngāti Manuhiri because we now have something to go to the table with," says Simon.
Another goal is to extend the relatively small but highly successful marine reserves around Leigh and Tāwharanui so that adult crayfish and snapper can safely venture further out into the Gulf for food – without being caught. "This would be one of the greatest joys for me because they have proven that they need an extension and that they need more reserves, and I think it's moving in the right direction," says Beate.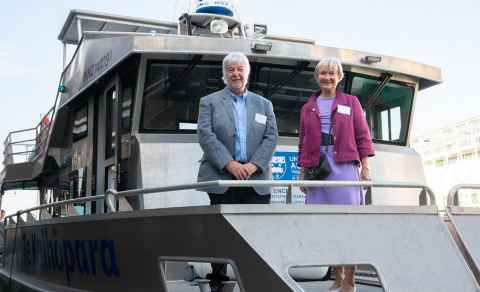 Having an engaged and enthusiastic donor like Beate who cares about what scientists are doing is another positive according to Simon. "She questions what we do. She opens up discussions about how we might progress things. So she's a participant in the process and super-valued because of that."
For Beate, it's also about intellectual stimulation. "I always say to donors, if you take an interest in what you support it will be fun for you. It's a privilege to be talking to the brightest people in our society and that has given me great pleasure."
Recognised with an Honorary Doctorate of Science in 2019, Beate has funded the careers of numerous PhD and postdoc students through a variety of scholarships which Simon says creates pathways for researchers into more permanent employment and "creates a legacy of contribution to make the world a better place".
Her funding has been important in allowing us to do risky science which is not necessarily what the Government wants to see. It's about the future of all of us, because one way and another we all rely on the ocean.
Another objective of the Oceans of Change initiative is to build 'ocean literacy' by expanding the role of the Leigh Discovery Centre to enable greater participation from poor and resource-limited schools – particularly in South Auckland and Northland. As Beate puts it, "universities realise that they're not sitting in a castle with thick walls, they have to go out. They have to inform, they have to engage society".
Beyond marine science, Beate also supports the Faculty of Education and Social Work and the Centre for Green Chemistry where Co-Director Professor James Wright says her funding has been essential in driving research into the "looming issue" of pure-water availability.
The main focus is on removing 'compounds of concern', like agrochemicals, flame retardants, pharmaceutical ingredients and other endocrine disrupting compounds that aren't being destroyed by conventional water-treatment processes. "There's now a recognition that humanity needs to treat this waste water before it's discharged into the environment," says James.
The goal is to develop a special membrane embedded with iron catalysts that can purify vast quantities of water, and James says they now have a robust principle that works well. "The research is making big inroads into helping to produce new methods for purifying water in a very simple and effective way."
Seed funding provided by Beate has attracted a Marsden grant in a closely related area, and she's also supported four PhD students who James says have been exposed to the ideas and concepts behind green chemistry. "In fact two of them have gone out into academic positions, so they'll be spreading the word to a very wide audience."
And when it comes to results, Beate says it's more about education than commercial success. "Research of course is important to produce results, but for some students the educational benefit in doing scientifically clean and proper research is part of a good education."
STEM Online opens pathways
One notable success through funding from Beate Schuler is STEM Online NZ, a free resource with interactive learning content and videos to support teachers and students. The aim is to increase participation and success in physics, chemistry and mathematics and, through this, expand entry into STEM (Science, Technology, Engineering and Mathematics) study and careers.
"Education is close to my heart and that's why I supported STEM Online when the project was introduced to me," says Beate. Having had difficulties in physics, she says she benefitted from watching one of the videos. "I understood something in physics which I hadn't understood before, I thought it was great!"
As the academic leader of the programme since its inception in 2016, Emeritus Professor Graeme Aitken says that it's given students access to relevant, engaging and challenging content that's aligned with the New Zealand qualification system. "We have been able to open pathways for more students to participate in an increasingly scientific and technologically global society."
STEM Online has also proved its worth since Covid struck. Enrolments have more than doubled to now involve more than 10,000 students and 139 schools, and Beate is thrilled that the Ministry of Education saw the potential and got behind the initiative by funding its expansion into digital technologies.
"That was to me a great satisfaction – somebody had realised, okay that's working and we're going to jump on the boat and finance another course."
Media contact
Helen Borne | Communications Manager
Alumni Relations and Development
Email: h.borne@auckland.ac.nz