A year of empowering enterprising women
Over the course of 2022, Professor Christine Woods established the Business School's first research and teaching centre to focus on women and entrepreneurship.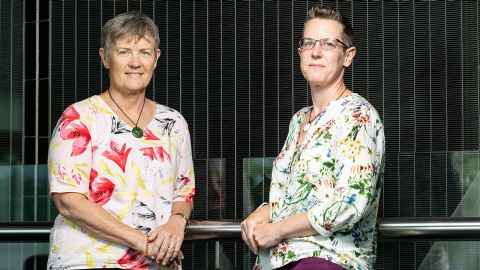 The Aotearoa Centre for Enterprising Women was officially launched in October and has a raft of high-impact research and teaching initiatives lined up for 2023.
It also acts as a hub for business insiders, successful women and government agencies to engage with the next generation of enterprising women.
It's hugely important, Christine says, as it will empower more women to become successful entrepreneurs in an environment that favours men.
"It's not only a gender issue but an economic one too," says Christine, who is a leading expert on gender inequity in business.
"Females have a much tougher time raising capital for new ventures than their male counterparts. We really need to address that."
Having the backing of iconic businesswoman Theresa Gattung has been fundamental.
Christine is the inaugural Theresa Gattung Chair in Women and Entrepreneurship, a newly created role that leads the Centre, made possible by a $2.5 million cash injection from the former Telecom CEO.
"I admire Theresa for what she has achieved in a male-centric industry, and for bringing her knowledge, experience and financial resources to advocate for women in business."
"With her support, this initiative is set to create real change, as more needs to be known about the specific experiences of women entrepreneurs in New Zealand," Christine says.
While there are more women growing businesses and commercialising research than ever before, sexism persists for women-led ventures, particularly when it comes to capital.
"Numerous studies have shown that women-run businesses deliver greater returns on investment than those led by men. The benefits of closing the gender gap for enterprising women are significant."
This initiative is set to create real change, as more needs to be known about the specific experiences of women entrepreneurs in New Zealand
Further support, from the Chau Hoi Shuen Foundation, has been put toward research.
Christine has assembled a team of ten outstanding female academics at the Centre to explore the different issues women entrepreneurs face, and how things could be improved.
The Centre's Deputy Director, Dr Janine Swail, has previously completed research into the unique challenges women face as they hunt for new investors to expand their firms.
She will continue this theme at the Centre by exploring how women can better engage with entrepreneurial finance.
Christine is leading her own study with New Zealand Trade and Enterprise, researching the barriers for female exporters to internationalise or scale-up.
Other research themes include the issues women face in SME and family businesses, social entrepreneurship, Māori entrepreneurship, and access to entrepreneurship education.
On the teaching side, the first MBA course focused on women and entrepreneurship was introduced in 2022, and Christine will deliver a new undergraduate course on the same topic in 2023.
She has taught entrepreneurship and Māori entrepreneurship at the Business School since 2001, however this is the first time women and entrepreneurship has been offered as a subject.
Christine's own interest in entrepreneurship stretches back to more than 20 years ago, after she completed a stint in Malawi as a small business advisor.
"I became hooked on the passion and energy that entrepreneurs bring to what they do," she says.
This led to a PhD on women and entrepreneurship and an academic career which has included contributing to two books and more than 40 journal articles. Christine also directs the owner/ manager programme at the Icehouse venture capital firm, and is a founding director of Māori Maps, a website that provides a gateway to the tribal marae of Aotearoa New Zealand.
"I'm really fortunate that I'm able to do this," Christine says. "But I'm also disappointed that 20 years after I completed my PhD, we are still talking about gender inequality in business. I really thought my research would be a dead end, yet here we are."
Encouraging enterprise in women's prisons
Dr Persephone de Magdalene is embarking on a project in the Centre for Enterprising Women to encourage entrepreneurship in women's prisons. Christine will mentor the project as her research supervisor.
Persephone is a post-doctoral fellow and has a background in women's social entrepreneurship and sustainable business practice.
"I'm interested in prisons as incarcerated women tend to have limited access to training opportunities, and the training they can access is highly gendered, and mostly focused on unskilled work," Persephone says.
"Often women have children, so their ability to support their families while on a low wage will be challenging, and increases their chances of returning to prison, often resulting in separation trauma for their children."
Persephone is in the early stages of her fellowship and is looking at how to deliver entrepreneurial education in prisons in a way that is both empowering and culturally sensitive.
She also hopes to collaborate with similar research programmes in Canada, Finland and the UK.
"We're trying to create international as well as domestic impact in terms of raising awareness of the issues that face women entrepreneurs in different spheres and in all sorts of different ways."
Media contact
Helen Borne | Communications Manager
Alumni Relations and Development
Email: h.borne@auckland.ac.nz