Striving for a more just society
Merciana Fernandes and Nikita Sionetali are committed to making New Zealand a more fair and just society.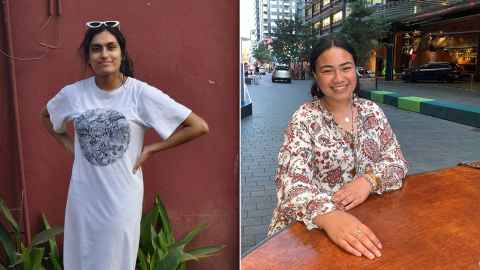 The students, who were the inaugural recipients of the Raye Freedman Trust Undergraduate Award, are determined to use their education to make a meaningful impact on Aotearoa's justice system.
Named after Raye Freedman, a Canadian-born philanthropist who moved to New Zealand in 1941 and died in 2006, the Raye Freedman Trust Undergraduate Award was established in 2019 and provides support for three years to two Bachelor of Arts or Bachelor of Arts conjoint students who are experiencing financial hardship.
Merciana completed her BA in 2022 with a double major in Criminology and Psychology. She is now set to begin a Bachelor of Science (Honours) majoring in Psychology and hopes to eventually work for a government organisation such as the Department of Corrections or the Ministry of Justice. With a particular interest in youth justice and restorative justice, once she has completed her studies Merciana aspires to dive into these issues at the grassroots level and eventually play a role in shaping the country's policy in these fields.
"It's about working with communities on how outcomes can suit them better, taking a bottom-up approach," she says.
"I'd like to see policy influenced by those in our communities who have first-hand experience working with people who offend."
Nikita also dreams of playing an active role in shaping New Zealand's justice system. She is currently in her fourth year of a conjoint Bachelor of Laws and Arts degree with a double major in Sociology and Criminology and has her sights set on becoming a lawyer, with her ultimate dream being to become a judge.
Nikita, who is Samoan, Niuean and New Zealand European, says she has a particular interest in tackling systemic racism in Aotearoa and the inequality faced by many Māori and Pacific people here.
"In order to see a systemic change, we must start small by educating those around us on these issues, addressing and shutting down the subtle racism that happens in our communities every day," she says.
Having attended a low-decile high school and being the first in her family to enter university, Nikita says she hopes her journey can also inspire other young Pacific women to follow their dreams.
Both Nikita and Merciana describe the support they received from the Trust as being a "blessing" and say it has strengthened their desire to serve and help others.
"The award not only helped me financially, but it also boosted my confidence to know there are essentially strangers who believe in me so much they have spent their hard-earned money on helping to make my dreams come true," says Nikita.
Media contact
Helen Borne | Communications Manager
Alumni Relations and Development
Email: h.borne@auckland.ac.nz