Māori student aims to create a pathway for better health outcomes in Aotearoa
Ariana Andrews (Waikato-Tainui, Te Whakatōhea) is a recipient of the 2023 Kupe Leadership Scholarship program, with aspirations to aid life expectancy among Māori.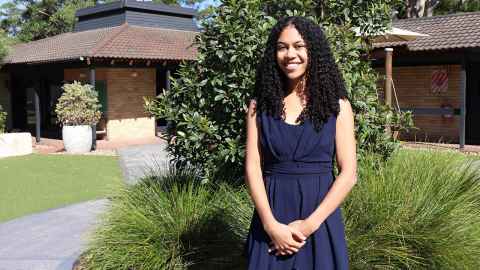 A talented group of students have been selected for the 2023 Kupe Leadership Scholarship, students who are recognised to have potential to become transformational leaders and are committed to using their skills and knowledge to address social, environmental, and economic challenges.
Qualities such as compassion, integrity, humility, respect for others, a desire to serve and a big vision for Aotearoa New Zealand and its communities are also hallmarks of these scholars.
Among the recipients are Ariana Andrews who is pursuing a Master of Public Health, with aspirations to with aspirations to improve health and wellbeing for Māori.
"We are losing far too many of our whānau before their time. Colonialism has embedded inequities throughout our society, and I saw one outcome of this in our differential health outcomes and shortened life expectancy," Ariana says.
"I saw this pattern in the disproportionate numbers of Māori who entered hospital, often at a later stage of disease, frequently feeling alienated by the clinical environment.
"I chose to study public health because I want to work with others to make a change to these environments and circumstances that are disproportionately making our people unwell."
Ariana believes the Kupe Leadership Scholarship is an incredible opportunity to forge a pathway for a better Aotearoa.

"I have already learned so much from the other scholars in my cohort, who are each forging a unique path forward that will make Aotearoa a better place for those to come.
One of the unique features of the Kupe Leadership programme is its emphasis on mentorship. Each scholar is paired with a mentor who is a leader in their field of interest.
The mentors provide guidance, support, and advice to the scholars, helping them to develop their leadership skills and supporting them to navigate their academic and professional journey.
Ariana's mentor is Dr Huhana Hickey, a high-profile lawyer and disability advocate, well equipped to guide Ariana in the space of public health.
"I look forward to learning from Dr Huhana Hickey, she will help me to forge my own path, supporting me as I navigate and occasionally stumble on unfamiliar terrain."
"I am only at the beginning of this journey, but I know I will emerge from this programme knowing how to move through the world with a stronger sense of authenticity, courage, and purpose. Hopefully, I'll be able to encourage and inspire others to do the same."
Ariana intends to explore conceptualisations of health equity in Aotearoa New Zealand, in hopes to develop a deeper understanding of the possibilities and limitations of using health equity as a framework for improving Māori health.
"I also look forward to developing my research skills, particularly as this will be the first time I engage in research using a Kaupapa Māori methodology."
Through the Kupe Leadership Scholarship, Ariana hopes to elevate Indigenous and other marginalised voices, collaborate with others who are passionate about human rights and Indigenous rights, and creating a world where Indigenous health and wellbeing is of utmost importance.