Biggest new university accommodation project
Biggest new uni accommodation project: US-inspired Carlaw Park Student Village. By Anne Gibson, NZ Herald. Originally published 11.4.23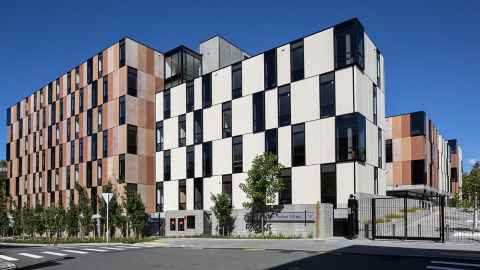 New Zealand's largest new student housing project opened in February and although foreign student numbers are still low, demand for rooms is outstripping supply.
The final stage of Parnell's Carlaw Park Student Village opened for the University of Auckland's first semester.
It is a new $250 million 10-level block for nearly 1000 students at the Stanley St/Nicholls Lane intersection.
All up, 416 apartments have been developed, each with three to six bedrooms, resulting in 907 bedrooms in this newest block.
Three buildings have been developed on the bigger site for 1600 students and it's the final and largest of the buildings which opened two months ago.
That was developed by investment specialist Greg Reidy of Reidy & Co with construction chief Kim Barrett of Haydn & Rollett. It is owned by more than 50 shareholders in a privately-owned portfolio investment entity but leased for 30 years to the university.
The university sees the block as helping draw and keep students as the tertiary sector rebuilds after Covid.
Barrett said apartments were "oversubscribed which demonstrates a high level of unmet need locally and also signs that the international student numbers are coming back. This will help provide much-needed infrastructure to meet long-term accommodation requirements for both segments".
The project was inspired by United States college accommodation, Reidy and Barrett said today.
It has a central courtyard for games like volleyball and an area for BBQs.
"Extensive consultation with students has also seen the incorporation of new design elements including cinema rooms, gaming areas, retail, communal kitchens, music rooms, e-bike storage, study and artistic spaces," the statement said, also citing soundproofing of the block on busy Stanley St near feeders to motorway onramps and offramps.
Adrienne Cleland, university deputy vice-chancellor and registrar, saud the self-contained apartment model was common in the USA, Britain and Australia. But our young students usually stayed in traditional student halls of residence.
There is big local demand for campus apartments and the university had 8500 applications last year for its 4500 beds, she said.
Although the new project isn't on the campus, it's nearby.
"In New Zealand, students living on campus will typically go into a catered hall-style accommodation in their first year," she said, citing a chronic shortage of self-contained student accommodation.
More private flats in the area are taken off the market as the wider area is gentrified.
Reidy and Barrett formed Resident Properties three years ago, specialising in the build to rent market.
Cleland said each apartment is fully furnished so students won't have challenges finding beds, furniture or whiteware and they can budget on a fixed weekly cost of $300/week.
"The development of this new accommodation facility is designed to provide students with a world standard education experience, which in turn helps to develop our international reputation and to ensure we remain competitive in the global market," she says.
The addition of 907 rooms brings the university closer to its target of 7500 beds which will allow it to house about 16 per cent of its current student population.
Reidy said many older houses in Mt Eden, Parnell and Grafton aren't rented but owner-occupied and renovated as family homes so it was much harder to get a student flat near uni.
"This new development is designed to address the undersupply of good quality student flats within walking distance of the University of Auckland. We believe the project has achieved this objective at a standard beyond anything built to date," he says.
Article originally published in NZ Herald Premium and can be found here with premium access.