Fofonga: A commitment to address inequities in Pacific research
Fofonga, a platform to bring Pacific researchers together, has launched at Waipapa Taumata Rau, building Pacific research leadership capacity.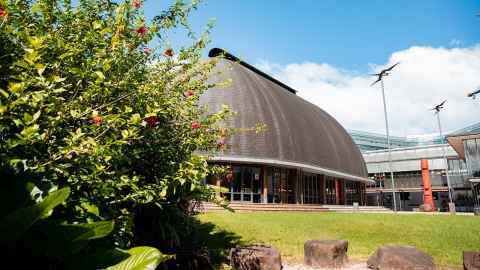 Pacific researchers are severely under-represented in all New Zealand universities, according to senior lecturer and Pacific scholar, Seuta'afili Dr Patrick Thomsen.
"Fofonga's goal is to help address this by building Pacific research capacity at Waipapa Taumata Rau, through a university-wide approach that places Pacific research leadership at the forefront of Pacific research," he said.
Seuta'afili Dr Patrick Thomsen (Vaimoso, Vaigaga) is the inaugural director of Fofonga, appointed by the Deputy Vice Chancellor Research Office at Waipapa Taumata Rau. Pro-Vice Chancellor Pacific Associate Professor Jemaima Tiatia heads the oversight and governance board – with Ioana Hill as the programme manager and Allyssa Verner-Pula as the research administrator.
Fofonga launched last week on 21 April.
"The majority of Pacific research in Aotearoa New Zealand is not being carried out by Pacific researchers, which poses questions around how our communities' issues are being represented outside of our communities' values, ethics, and knowledges.
"Fofonga is a commitment from Waipapa Taumata Rau to address this inequity."
Research reveals that Pacific students value having Pacific faces, or fofonga, at the front of their lecture theatres and that they are more likely to succeed in tertiary education when this happens. Thomsen adds that it is vital we address this for a myriad of interconnected equity reasons.
Fofonga aims to build Pacific research capacity, increase the number of Pacific researchers in full- time positions at the University of Auckland and facilitate transdisciplinary Pacific research that cuts across the different siloes of the University that can make it difficult to work together.
"We aim to support, develop, and cultivate emerging Pacific research talent and guide them into future leaders at Waipapa Taumata Rau. We want all Pacific research projects in the future to be led or co-led by Pacific researchers," Thomsen said.
"We also want to help grow the competency of non-Pacific researchers around cultural appropriateness and ways of working to create safer research spaces for all Pacific peoples who remain one of the most over-researched and under-served peoples by our research communities in Aotearoa New Zealand."
Fofonga's work programme for 2023 will focus on growth. Workshops will include CV and portfolio development, transdisciplinary collaborative cross-faculty research ideation workshops, the development of a Pacific researcher mentoring scheme, media training for Pacific research staff, grant development support workshops and a new Pacific research repository to share Pacific research with our communities.
Fofonga's first activity in 2023 is to support the Pacific Early Career Academics Network's work programme that was established in 2019 by Waipapa Taumata Rau experts, Seuta'afili Dr Patrick Thomsen, Dr Sereana Naepi, Dr Marcia Leenen-Young and Dr Sam Manuela. The current leaders are Dr Moeata Keil and Dr Sisikula Sisifa.
Thomsen says Fofonga is set to create greater networking and connections between Pacific researchers at Waipapa Taumata Rau and to meet Pacific communities' aspirations for meaningful change.
Fofonga is open to all Pacific researchers at Waipapa Taumata Rau.