Graduation a 'life-changing moment' for international student
Ankeeta Karmakar almost gave up her dream of studying engineering in New Zealand. Then everything started to fall into place.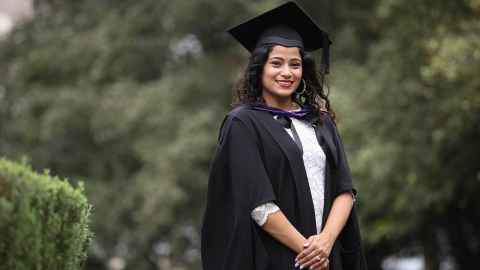 There was a time when Ankeeta Karmakar thought she would never make it to Aotearoa New Zealand.
As an international student at the University of Auckland, Ankeeta began her Master of Engineering degree online from India while waiting for New Zealand's borders to reopen after the Covid-19 pandemic.
"I kind of gave up thinking that I would ever have the opportunity to come to Auckland," she says.
Studying remotely from the other side of the world had its challenges, with classes often starting at 4am in India. Then last year Ankeeta received an email to say that she would be able to finish her masters in person.
Thirty days later, she landed in New Zealand.
"Once I arrived in Auckland last year, everything started to fall into place," she says.
The 29-year-old chose to specialise in earthquake engineering because she knows first-hand just how devastating they can be for local communities. Her family is from Assam, a northeastern state in India known as one of the most earthquake-prone areas of the country.
"I fear earthquakes a lot and wanted to make it my profession so I can overcome my fear," she says.
Her masters thesis focused on the seismic resilience of cold-formed steel, and she's continuing her research into cold-formed steel's mid-rise building sector for her PhD, which she started in December.
"I chose to study in New Zealand because the research is some of the most renowned in the world. I want to help New Zealand as well as my community back in India to build a strong earthquake-resilient society."
Coming to New Zealand has changed my life. This is what I've always wanted.
Ankeeta was inspired to study engineering by her father, who also worked as a civil engineer, and says it was a "life-changing moment" when she found out she was eligible to graduate.
"This has been a crazy journey. It feels surreal because I never thought I would come this far."
She remembers feeling scared and overwhelmed when she first arrived in New Zealand. It was the first international trip she had ever made by herself, but the support she received from her supervisor Professor G. Charles Clifton helped her to overcome her fears.
"When I landed, I received an email from him saying 'reach out to me if you need anything, and I'll be there to help you out.'"
Now that she's settled in, she plans on sticking around and exploring her options in academia.
"When I see Charles now, I say to him, 'do you know someday I really want to be like you?'
Thankfully, there are no more 4am classes that she has to get up for.
"Coming to New Zealand has changed my life," she says. "This is what I've always wanted. Now I'm here, I'm very happy, and life is good."