Poetic justice: connecting creative writing and the law
New graduate Nithya Narayanan landed a role her teenage self would never have envisioned, working as a law clerk for the country's largest litigation firm. She's also keeping up with her creative writing.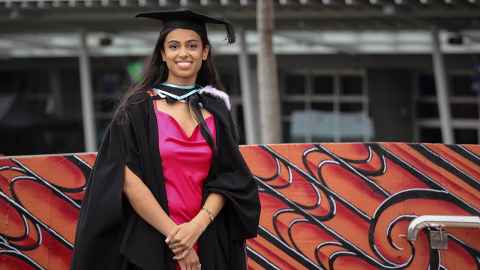 Award-winning poet Nithya Narayanan began weaving words at a young age, expressing her thoughts by putting pen to paper.
At 14, the young wordsmith, who grew up in a house filled with books, correctly spelled perestroika - the policy or practice of restructuring the economic and political system in the former Soviet Union - to win the 2013 New Zealand spelling bee and $5000.
Unsurprisingly, in her last couple of years at high school, Nithya leaned towards studying a Bachelor of Arts majoring in English, but a suggestion or two from a couple of perceptive people in her life saw a new chapter in Nithya's story begin to unfold.
"A few of my teachers and friends at Lynfield College said that along with a BA, I should consider law. I was always quite shy and never did debating or anything like that, so it hadn't crossed my mind. I didn't think at that time that law was something I could or would do."
But after giving the idea some thought and talking it over with family and friends, Nithya's interest in law, what she could do with it and where it could take her was ignited.
Straight out of high school, she went to Waipapa Taumata Rau, University of Auckland, to study Arts and Law (Hons) degrees.
The transition wasn't entirely smooth, says the May graduate, who landed her first role this February as a law clerk in Meredith Connell's crown specialist team.
"I ended up really enjoying the law degree, but it was scary at first, especially not knowing many people. There were barely any people from my high school doing law, and this forced me out of my comfort zone and pushed me to meet people from all walks of life," says Nithya, whose parents embarked on a new life in Aotearoa in 1998, moving from Mumbai to Auckland before she was born.
Although Nithya excelled during her law studies, receiving several awards to recognise her standout grades, it wasn't all smooth sailing.
When she started, she noticed a lack of diversity, and when Covid-19 reared its head, maintaining connections became a struggle.
"When Covid-19 arrived, and we all went online the big challenge was trying to negotiate this change in relation to mental health, motivation, and feelings of isolation."
I'm kind of now in a position to share my experience and maybe inspire a student or two who might not have considered law because they didn't think they had the skills, or ruled themselves out like I did, to maybe give it another thought.
Nithya graduated with the Auckland District Law Society's Prize in recognition of the best undergraduate record, and not long after her ceremony, she was scheduled to return to her old high school stomping, or more accurately, reading ground to talk to current students about her experience studying, and now working, in law.
Her visit is part of Meredith Connell's Te Kuhunga programme, launched in 2019 to inspire, inform, and support senior secondary students from central Auckland's low decile schools to study law at university.
"I'm kind of now in a position to share my experience and maybe inspire a student or two who might not have considered law because they didn't think they had the skills, or ruled themselves out like I did, to maybe give it another thought."
For Nithya, giving law a go alongside arts has proven immensely beneficial, and she says the mix of papers she chose enabled her to build on her passion for writing and to develop new skills.
During her degrees, she edited and wrote for both the Law Review and arts and culture publication, Interesting Journal.
In 2019, she took on her first internship with Chapman Tripp's litigation team. In the same year, Nithya's poem 'Hiroshima' was named one of the 25 best New Zealand poems.
Another internship, this time with the Public Defence Service, saw her assist with drafting legal submissions for various criminal proceedings, including discharge without conviction applications, bail variations and sentencings, which buoyed her interest in criminal law.
Now that she's working full-time as a law clerk focusing on criminal prosecution, is there any time/energy/inspiration left over for creative writing?
"I'm intentionally making time for it and writing a little poetry on the side. I'm also working with the Writers' Café to deliver monthly writing sessions, which is quite cool because it keeps me connected to Auckland's community of writers."
An anthology of Nithya's works could soon begin to take shape. Meanwhile, the new graduate is sinking her teeth into her role at Meredith Connell and inspiring students at her former high school to make connections and consider a career they may not have thought they could.