Climate justice takes centre stage
A climate litigation conference is bringing together academics, activists, lawyers, judges, students and businesses to discuss and debate climate-related legal issues in Aotearoa and abroad.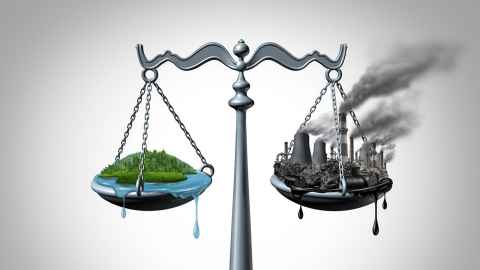 Climate change is the defining issue of our time but changing how we operate isn't happening at a fast enough pace. What will make the governments and businesses of the world change course?
Countries everywhere, including New Zealand, are becoming active climate litigation jurisdictions, testing out the limits of the law to help address this crucial global problem, and this month, a climate litigation conference provides a timely opportunity for academics, activists, lawyers, judges, students, and businesses to exchange perspectives on climate litigation in Aotearoa and internationally.
Hosted by the University of Auckland's New Zealand Centre for Environmental Law and the Legal Research Foundation, the conference on May 11th and 12th, features judges from top overseas courts including the German Constitutional Court, the Belgian Constitutional Court and the French Conseil d'État. New Zealand and Australian legal experts and leading regional and international practitioners and academics in climate litigation will also be speaking.
A variety of cases are currently before the courts to challenge our level of ambition, to test government decision-making in relation to transport and fossil fuel exploration, and to hold emitting companies to account.
University of Auckland Associate Professor of Law Vernon Rive, an expert in climate change and environmental law, is part of the conference's panel discussion on climate litigation in New Zealand and the world.

Rive says that, in part, climate litigation in Aotearoa follows international trends. But notes that there's also significant potential for courts' approaches to contribute to a growing body of innovative judicial remedies abroad.

"This is especially the case where, as with some of the largest cases currently being argued in New Zealand, Indigenous values and issues are involved."

Lawyers for Climate Action New Zealand committee member and experienced competition and regulatory lawyer Dr James Every-Palmer KC is also part of the panel discussion and says a lot of people are worried that Aotearoa is not pulling its weight on climate change.

"A variety of cases are currently before the courts to challenge our level of ambition, to test government decision-making in relation to transport and fossil fuel exploration, and to hold emitting companies to account," he says.

"Judges are naturally concerned that courts are not well suited to address the complicated policy responses and trade-offs required. On the other hand, maintaining a sustainable environment resonates with judicial concerns to protect human rights and the rule of law. Courts also have some institutional advantages in terms of dealing with expert evidence and having an eye to intergenerational equity where elected governments are reluctant to impose short-term costs for long-term gains."

Director of the New Zealand Centre for Environmental Law, Professor Caroline Foster played a key role in organising the conference and says it's a timely initiative designed to bring in speakers with expertise from around the world and promote interaction with New Zealand practitioners and scholars on the legal issues that so many courts are now dealing with.

"For example, we expect the Supreme Court to rule very soon on whether to uphold the strikeout in the novel case of Smith v Fonterra Co-operative Group Limited and others. This is just one example among many of the new and challenging cases that will be coming before the courts as Aotearoa New Zealand moves through the transition to a low carbon world that is so critical for the coming century."