Graduation a milestone for refugee community
Ja Seng Aung Lahpai arrived in New Zealand as a refugee. Graduating is a major achievement – for both her and her community.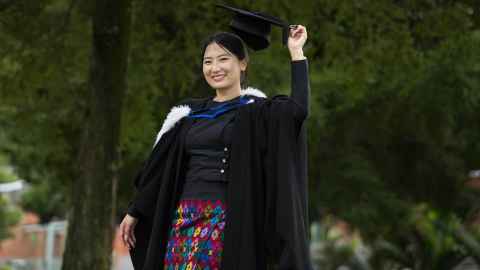 Hailing from Kachinland, Myanmar, Ja Seng Aung Lahpai arrived in Aotearoa New Zealand as a refugee in 2007. Yesterday she graduated with a Bachelor of Science, majoring in Biological Sciences.
She's the first person from her Kachin community in Porirua to graduate in the sciences, and it's a major milestone for both her and her community. As she describes it, when one person in her community graduates, her whole community graduates.
"[My graduation] means exposure, that someone within the community could set an example for the younger generation. I think that's what was lacking during my time as a young kid, learning about what future path, goals, career to go into. I didn't have anyone close to me to encourage me and to expose me to different career paths … My main focus is my nieces and nephews – the next generation – to learn that science is not all about chemistry and reaction. I want them to see the innovation side of science."
Many people from Ja's community arrived in Aotearoa as refugees. Her family came in 2007 from Malaysia when she was seven years old.
"I remembered my mum jumping up and down with so much excitement and relief that we were finally going to New Zealand, a 'better country'. I remember being so confused about what she was saying, but seeing her happy and excited made me happy, so I joined her, and we both jumped around in the living room for a good minute.
"I was young enough to adapt quickly and learn a new language. The community elders worked hard to ensure the younger generations stayed rooted and cultured through weekly extracurricular activities and annual summer language lessons."
She describes her homeland as one "filled with natural resources and unexplored beauty". It is only fitting then that her chosen career path involves a deep interaction with the land and environment. After exploring her options in science, she finally landed on Biotechnology because of the adventure and innovation it offers.
Her first adventure in science began when she left her family and community in Porirua to study at the University of Auckland. "The hardest part about moving away was also learning to be independent. Not just learning academically, but also learning how to live independently. Groceries, budgeting, I'd never done those things."
What helped with this transition was the Faculty of Science's Bio Equity grant. This grant provides resources and vouchers to support students from refugee backgrounds through their studies and life on campus, and assigns them a go-to person for everything related to their degree.
"Engaging with equity support meant more than receiving course advice and support. It gave me confidence in the disadvantages of life. It gave me a community to belong to away from home, and a society that advocates for me."
Ja currently works for biotech company Wilderlab as a Production Technician. Her role involves supporting the growing company in increasing the production rate of sample kits.
"My end goal as an environmental scientist and innovator, is to go back to Myanmar when the time comes, when there is democracy. I want to help with putting policies in place or taking action to restore or even conserve some of the untouched nature."