Ngāpuhi descendant graduates second time
Rangimaarie Painting (Ngāpuhi) has graduated with a Masters of Indigenous Studies, adding to her knowledge of health science.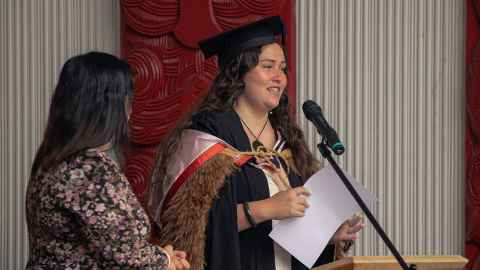 Ki te taha o toku Mama,
Ko Tapuwharawhara te maunga
Ko Taumarere te Awa
Ko Ngatokimatawhaorua te waka
Ko Ngāpuhi te iwi
Ko Ngāti Manu te hapu
Ko Karetu te marae
Ki te taha o toku Papa,
Ko Whakarongorua te maunga
Ko Hokianga te moana
Ko Ngatokimatawhaorua te waka
Ko Ngāpuhi te iwi
Ko Te Popoto te hapu
Ko Mataitaua te marae
Rangimaarie Painting intends to use her education to better Māori health outcomes, now with a Master of Indigenous Studies, following her Bachelors of Health Science in 2020.
"The inspiration behind my studies was to prioritise Indigenous knowledge, and apply it to Māori health and health inequities, moving away from deficit models of health and victim blaming and towards a more transformative approach to health."
Throughout her study journey, Rangimaarie says there is a need to be hypercritical about how Te Ao Maori and tangata whenua are presented, and what agenda it serves.
"We as tauira are constantly forced into a defensive position, especially in health, pushing back against stereotypes and arguments of cultural deficit from researchers, lecturers and peers," she says.
"I believe that we have an obligation to ensure that our studies create positive change for Te Ao Maori."
Rangimaarie says the path ahead won't be easy, put intends to keep pushing forward.
"The knowledge I have gained through my studies will hopefully contribute to the betterment of Māori in the health sector. It's no easy task," she says.
"However, this was the hope I have carried throughout my studies so far and I will continue to carry it with me going forward.
"I hope to utilise what I have learnt to benefit Māori communities, part of that entails having transformative conversations with the health sector regarding the status of Māori health, and the care received by Maori."
"E tipu e rea,
Mo nga ra o tou ao,
Ko to ringa ki nga rakau a te Pākehā hei ara mo to tīnana,
Ko te ngākau ki nga taonga a o tīpuna Māori hei tikitiki mō to māhuna."
- Tā Apirana Ngata.