Rangatahi health inspires mātanga tapuhi nurse practitioner graduate
Debbie McLenaghen (Waitaha, Kāti Mamoe, Kāi Tahu) received her masters in advanced nursing, dedicating her life to positive health outcomes for Māori youth.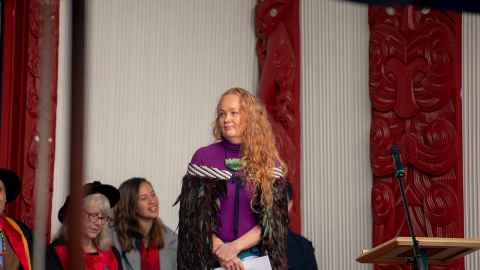 Ko Paemauka o Tākitimu tōku mauka
Ko Aparima tōku awa
Ko Takitimu tōku waka
Ko Waitaha, Kāti Mamoe, Ko Kᾱi Tahu ōku iwi
Ko Ngāti Taoka tōku hapū
Ko Takutai o Te Tītī tōku marae
Ko Kuini Goodwillie (Kararaina) tōku tupuna
Ko Nancy raua ko Fergus Barton ōku tupuna
Ko Margaret raua ko Hugh McLenaghen ōku tupuna
Ko Ian raua ko Bev McLenaghen ōku matua
Nō Ōtautahi ahau
Kai Rotorua tōku kāika i nāianei
Ko Debbie McLenaghen tōku ingoa
Newly graduated nurse practitioner Debbie McLenaghen (Waitaha, Kāti Mamoe, Kāi Tahu) is dedicating her life to positive health outcomes for Māori youth.
Debbie has just received a masters in advanced nursing from Waipapa Taumata Rau, the University of Auckland at a 6 May 2023 ceremony.
Debbie's goals are to support rangatahi (Māori youth) to develop good emotional and mental health, where they are strong in their mana, wairua, hinengaro and tinana.
"Our rangatahi are our future and I want to provide them with healthcare that is trustworthy and aroha-based, a service that helps them reach their full potential and have a successful transition into adulthood."
Debbie will take offer her mahi as a mātanga tapuhi (nurse practitioner) at the Rotorua Youth Health Centre, a role created specifically for her.
Debbie also provides clinical healthcare care to the rangatahi at Te Maioha o Parekarangi youth justice residence, as well as training other nurses.
In her hometown of Rotorua, Debbie saw a need in her community relating to deprivation, both in resources and access to healthcare. Gaining work experience in schools gave her the push to pursue her studies.
"It made me realise my potential for making positive changes and how I can provide excellent healthcare to our young people. Rangatahi are often misunderstood but they are so fun to work with. Sometimes all they need is someone to listen.
"I've met so many other passionate people who are on the same path which keeps the inspiration going.
Debbie also credits her motivation and driving force to succeed to her children, Kiana (14) and Vincent (12).
As a nurse practitioner her mahi includes:
• providing a specialist integrated youth health service;
• improving patient access to free services;
• longer consultations with positive outcomes;
• closing knowledge gaps;
• providing greater adherence to risk reduction behaviours through collaboration with other professional organisations; and
• providing leadership to facilitate the transition into healthy adulthood through influencing and critiquing health policy.
She is one of the first to join pilot programme in the University's nursing department, the Nurse Practitioner Transition Programme (NPTP), where she says she is evolving a specialised nurse practitioner model of care, with Tā Mason Durie's Te Whara Tapa Whā model as the foundation of her values.
"I am dedicated to eliminating indigenous and ethnic health inequities by addressing institutionalised racism and ensuring a healthcare system that delivers equitable care," she says.
"We must recognise the importance of cultural competency and cultural safety at both individual health practitioner and organisational levels, to achieve equitable health care."
For others in smaller towns, like Rotorua, who wish to pursue education, Debbie says: "Surround yourself with like-minded people and don't stop believing. Everything you set your mind to is truly attainable."
"Hāpaitia te ara tika pūmau ai te rangatiratanga mō ngā uri whakatipu - Foster the pathway of knowledge to strength, independence and growth for future generations."