Fatema Rampurawala: intern extraordinaire
Rocket design, AI development, investment banking and business consultancy for the likes of Rocket Lab, Jarden, Beca and Kearney all graced Fatema Rampurawala's resume before she finished university.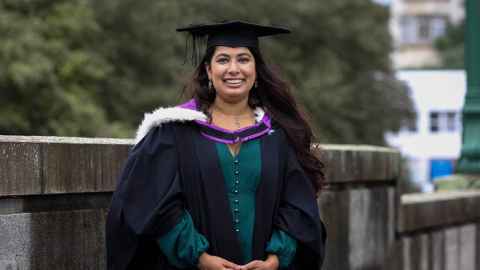 In her last year of high school, Fatema Rampurawala, who graduated with a Bachelor of Engineering and a Bachelor of Commerce in May, had no idea what she wanted to do. But a failed scholarship application, family support and various internships helped her find her way, and land a role with one of the world's most prestigious management consulting firms.
Fatema's parents played a huge part in her success at university and beyond, and she says their dedication to creating opportunities for her and her older sister was immensely valuable. 
"After we moved to New Zealand from India when I was three years old, I saw my parents go through a pretty tough time, and this instilled a drive in my sister and I to make the best of this opportunity and go for it. Mum and Dad came to Aotearoa with awesome degrees, but they found it hard to find jobs in those industries over here. Despite this, they worked hard to set us up. What they did for us was amazing."
Fatema was also supported in her studies thanks to a generous four-year engineering scholarship totalling $40,000, courtesy of the Eyal and Marilyn Ofer Family Foundation, and she enjoyed mentoring and other support from New Zealand Oil and Gas Ltd, an Ofer Global Group company.
Over the six years Fatema put into her engineering and commerce degrees, she dedicated every summer break to a new internship, boosting her confidence, skills, spending potential and CV, all of which helped her land a position with Boston Consulting Group in Sydney before finishing university.
"I worked as an intern every summer, which was good from the learning side and the money side," she says. "The only issue was that I never had a long summer break! It was worth it though - every internship helped me to land the next one, and doing this enabled me to leave university with solid experience and to get an amazing job."
I definitely got other internships on the back of those I had already done.
In her first year at Waipapa Taumata Rau, when she knew very little about artificial intelligence, Fatema heard about an internship with engineering and consulting firm Beca.
The role gave her the opportunity to work on developing a conversational AI tool designed to enable easy on-the-go public consultation. It also kicked off her internship extravaganza.

"That was the start of it all because I definitely got other internships on the back of those I had already done — for example, my investment banking internship. I went into it with very little finance knowledge, but they hired me partly because they were interested in my experience at Rocket Lab, which was quite an up-and-coming company in the market."

Fatema's parents both worked in accounting and finance. However, commerce didn't initially hold any appeal for their daughter.

"I didn't think it was a route I wanted to take, but in Year 13, I found out about a scholarship opportunity with Price Waterhouse Coopers (PwC), which I had heard was a pretty cool company, and I was able to apply."

Fatema didn't get that scholarship, but she did land a place in the PwC Accelerate programme, which set her up with a mentor and gave her the opportunity to apply for a paid summer internship.
"Commerce was a requirement of the programme, and it turned out to be one of the best coincidences of my life because I really enjoyed my commerce degree, and I definitely wouldn't be an associate with Boston Consulting Group now if I hadn't taken it up."