Engineering alumnus awarded Gates Cambridge Scholarship 
Recent graduate Michael Allison is committed to improving the lives of people in need. His work has earned him a place at the University of Cambridge.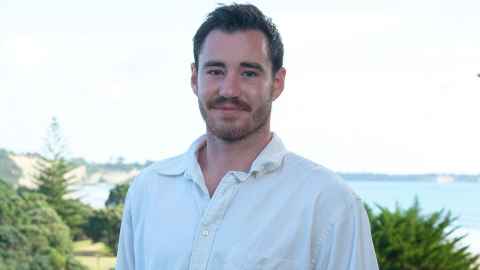 Michael Allison grew up on a small farm in North Canterbury, helping his parents develop wetlands and transform paddocks into an ecological sanctuary. 
He had initially found his calling in life sciences, believing research related to the natural environment was critical in the face of climate change and other forms of environmental degradation. 
"Despite a degree in biological sciences and a fulfilling role as a graduate scientist, I realised that engineering would provide a route to make a more significant impact," says Michael. 
He decided to return to the University of Auckland and recently graduated with a Bachelor of Engineering (Honours) in Civil and Environmental Engineering, as a 2022 Kupe Scholar.
Michael will now get a chance to take his passion and research to another level after being named as one of 77 scholars in the Gates Cambridge Class of 2023.  
The Gates Cambridge scholarship programme is the University of Cambridge's flagship international postgraduate scholarship programme. It was established in 2000 through a US$210 million donation from the Bill and Melinda Gates Foundation. 
"Studying at the University of Cambridge has been an aspiration of mine for a long time," says Michael. "Being awarded a full scholarship reduces financial stress and, more importantly, provides an opportunity to join a diverse network of existing scholars and alumni.
"To be recognised among such a high calibre of recipients is humbling and reflects the support of those around me. The Gates Cambridge Scholarship's mission is to build a global network of future leaders committed to improving the lives of others, which is awesome to be a part of." 
"My ultimate goal is to make the most significant positive difference for the largest number of people." 
Michael will be studying a Master of Philosophy in Engineering for Sustainable Development and hopes to develop the skills to address some of our most critical challenges.  
He says the built environment is responsible for many of the world's problems but also many of its solutions, including housing and critical infrastructure, and facilitating socioeconomic development.
He has been involved in this space as a site manager for a commercial construction company, a member of the MBIE Endeavour funded HERA Industry 4.0 Advisory Group and as a graduate teaching assistant developing a humanitarian engineering course for the Faculty of Engineering.
"I believe that infrastructure is the foundation on which society is built. It is essential to develop infrastructure that is not only sustainable but also resilient, capable of withstanding and adapting to changing conditions." 
Michael is also the founder of Waitality, a start-up company which emerged out of his honours research at Waipapa Taumata Rau, University of Auckland. The goal of the company is to develop engineering technologies that can improve water management in New Zealand and the Pacific. 
"Water management impacts everyone. In wealthier countries, clean water flowing from faucets and efficient wastewater disposal is taken for granted. However, climate change is causing water scarcity, and severe storms are increasing flooding, as we have witnessed with the impact of Cyclone Gabrielle," he says.  
"On the other hand, water is impossible to ignore in poorer countries, with 25 percent of the global population lacking access to clean water, and droughts and floods threatening the ability to survive year after year." 
Michael says that addressing these issues with resilient solutions in infrastructure and technology can positively impact the lives of many people in need. 
"My ultimate goal is to make the most significant positive difference for the largest number of people. Humanitarian engineering is an excellent way to achieve that, ensuring engineering is applied effectively and equitably." 
Media contact
Hussein Moses | Media adviser
M: 027 361 1000
E: hussein.moses@auckland.ac.nz