Improving access to rheumatic heart disease screening
As a medical doctor, research fellow and father of four, life is pretty busy for Dr Adam Dennison.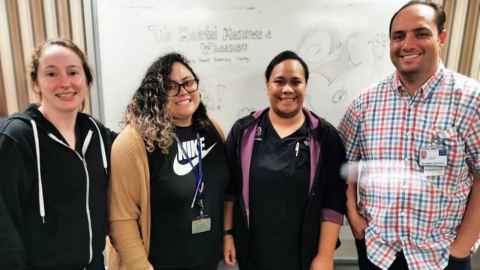 Based at Middlemore Hospital, Adam divides his time between coordinating various
research projects, teaching medical students and filling in as a pediatrician in Middlemore's emergency department. He's also doing a part-time masters degree at the University of Auckland focusing on rheumatic heart disease, supported through financial backing from a generous donor. 
Rheumatic heart disease results from heart valves being permanently damaged by rheumatic fever, an illness that develops when strep throat or scarlet fever isn't properly treated. Rheumatic heart disease mainly affects Māori and Pacific children and young people, with one report published earlier this year showing up to one in 50 young Pacific adults living in south Auckland may have the illness.
As someone working on the frontline of the fight against rheumatic heart disease in south Auckland, Adam says we have "appallingly high rates" of the illness here – something he's determined to change.
"It's quite a significant illness with serious long-term consequences for the whānau if not prevented or diagnosed and treated early," he says.
As part of his work to diagnose and treat rheumatic heart disease early, Adam is currently spearheading a pilot programme training nurses to conduct echocardiogram case finding in at-risk families for rheumatic heart disease. Although screening is generally done by trained doctors and sonographers as part of rheumatic fever control programmes in endemic areas throughout the world, it is not offered in New Zealand. Task-sharing of echo screening by non-experts, such as nurses, has been shown to be an effective way to increase the screening workforce in the Northern Territory of Australia, East Timor, Fiji, Brazil and in parts of Africa. By opening the door for nurses in New Zealand to also be able to do the procedure Adam hopes this programme will lead to more equitable health outcomes for at-risk families and give an opportunity for more children to be screened.
He says the screening is vitally important because it provides a chance to help children who may have had rheumatic fever in the past but were not diagnosed with the illness at the time due to the fact they showed only mild symptoms or were unable to receive proper treatment.
"They could be unaware that rheumatic fever has affected their heart, and they are going
around living with rheumatic heart disease," says Adam. "So the idea of this pilot is to identify children who have had a missed episode of rheumatic fever and then be able to offer them penicillin prophylaxis to prevent them from having further episodes of rheumatic fever that could lead to significant rheumatic heart disease in the future."
The project began in late May with the nurses currently undergoing an intensive introductory course to echocardiography. The study will last for 12 months, after which Adam will analyse the data and write up the findings in his masters thesis.
The donor who is supporting Adam's masters work called the doctor a "devoted practitioner" and said she was delighted to support his efforts to reduce rates of rheumatic heart disease in New Zealand.
Media contact
Helen Borne | Communications Manager
Alumni Relations and Development
Email: h.borne@auckland.ac.nz