Student aims to open door for more Māori women to enter corporate world
As a young woman studying business and law, Hiwa Majurey is determined to pave the way for Māori women to enter the corporate world.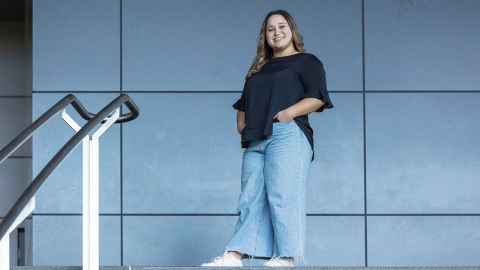 The 19-year-old is one of this year's recipients of the Mokaraka Māori Women in Business Scholarship, an award funded by University of Auckland alumna Melanie Smith.
Now a successful London-based CEO, Melanie established the scholarship to support Māori  women in business and to inspire future Māori business leaders to be ambitious and "get out there" in the world.
Hiwa says she feels honoured and humbled to receive support from someone like Melanie.
"I thought Melanie's leadership during the COVID years in the UK and all that she has achieved is truly inspiring – it moved and motivated me to apply for the scholarship. She is giving our people a meaningful opportunity to make a real difference for all Māori women and I want to continue her legacy, giving back to the generations to come."
Hiwa, who is currently in her second year of a conjoint Bachelor of Commerce and Bachelor of Laws, says her ultimate goal is to find a career in law. She hopes combining her law studies with a commerce degree will give her a deeper insight into the corporate world. And, acutely aware that Māori women are severely underrepresented in this realm, Hiwa hopes she can help play a role in changing that.
"It is exciting to see the wahine Māori leaders emerging in the corporate world who are paving  the way for us rangatahi. I look forward to our generation working hard to support them," she says.
In order to learn from and share knowledge with other Māori students with a similar mindset to herself, Hiwa has joined a number of student associations at the University, such as Te Rākau Ture, the Māori Law Students' Association; Te Mana Pakihi, the Māori Commerce Student Association; and Nga Tauira Māori, the University of Auckland Māori Students Association.
"I feel fortunate to be part of a large group of Māori working to support our whānau," she says. "We all come from different places and backgrounds within Aotearoa, and it's inspiring to hear all the different voices and stories of our journeys."
"Whanaungatanga is an essential part of my identity, and Melanie's scholarship is a tangible expression of that core value. It will be a great help in acquiring the knowledge and skills we will need to tautoko our people – to advance the place of Māori in our nation."
Media contact
Helen Borne | Communications Manager
Alumni Relations and Development
Email: h.borne@auckland.ac.nz