Green roof trial blooms with potential
A project to understand the benefits of 'living' roofs is sprouting up at the Faculty of Engineering.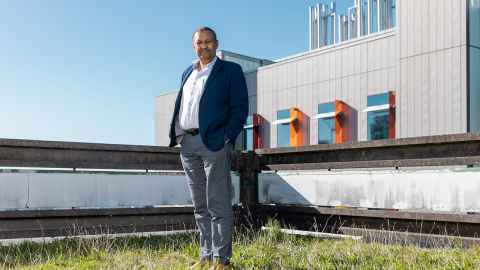 Hundreds of plants are being used to transform the rooftop of the Faculty of Engineering building as part of a trial to facilitate the uptake of green roofs in Aotearoa New Zealand.
Green or "living" roofs have a host of environmental benefits. They can be used to help manage stormwater runoff, improve air quality and provide a natural habitat for wildlife. They can also help to combat rising temperatures in the fight against climate change.
"The extreme weather we've seen this year has highlighted the urgent need to accelerate climate change mitigation and adaptation work," says research lead Associate Professor Asaad Shamseldin.
"Increasing green spaces and making our cities spongier is essential to reducing the impact of weather events like Cyclone Gabrielle and the floods we saw in January."
The project is a collaboration with Auckland Council to understand the benefits that living roofs can provide compared to conventional roofs. Shamseldin and a team of engineering students will use seven small-scale experimental plots to test different configurations of planted soil build-ups and use the data to inform future green roof designs in New Zealand.
"A lot of the research about living roofs comes from overseas, so we need to figure out what plants work best in our climate and local conditions," says Shamseldin.
"One of the long-term grand aims of the project is to investigate the concept of productive landscapes and whether we can use this living roof as a way of producing food."
The project aims to create replica test beds of Auckland's Central City Library living roof and will support our understanding of the hydrological benefits that living roofs may be able to provide in contrast to conventional roofs.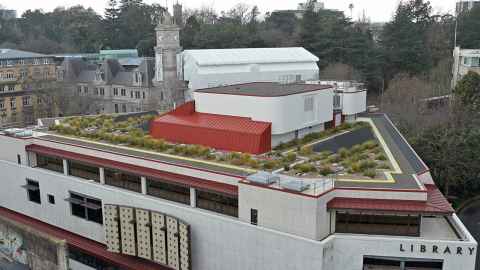 The library roof, which was created in partnership Ngāti Whātua Ōrākei, features more than 2,000 low-maintenance native plants. Ngāti Whātua Ōrākei have long been advocates of living infrastructure and encouraging how we live in harmony within te taiao (the natural world). When selecting the species, consideration was given for their ability to survive extreme conditions, including high-intensity rain, strong winds, heat and drought.
"Living infrastructure is not the answer to all stormwater challenges, but a part of the suite of tools we can use to reduce the level of impact," says Auckland Council's Healthy Waters Project Lead, Rachel Devine.
The Central Library living roof system is thought to store between 5-10 litres of water per square metre before the excess rainfall is either slowly released to the piped stormwater network or taken up by the plants through the evapotranspiration process.
The trial would not be possible without the support and work of many involved, including Ngāti Whātua Ōrākei, Natural Habitats – who donated their eco-pillow systems – Daltons, Manaaki Whenua Landcare Research, and local businesses The Urbanist and Tektus.