Epsom Campus: trail of beautiful memories
The Epsom Campus will close in early 2024. But for now, an art and discovery trail, open to the public, is one way to acknowledge its rich history.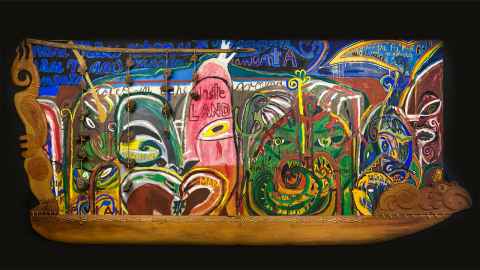 An art and discovery trail celebrating the rich history of Epsom Campus is now available to explore before the University leaves the site permanently by the start of  2024.

Each trail has a map to guide people around significant memorials, artworks, mature native trees and places of interest; the legacy of 100 years of teacher education.

The art trail features 16 artworks located in all sorts of nooks and crannies, many of which were done by visual arts graduates of the former Auckland Teachers' College from 1945 onwards.

Some of these include paintings, sculptures, mixed media, neon and ceramics by notable artists like Carole Shepheard, Reuben Paterson, Jeff Thomson, Emily Karaka, Donna Tupaea-Petero, Peter Stitchbury and Len Castle.

Art educators like Peter Smith, Jill Smith, and latterly a committee under the leadership of Dr Barbara Ormond, acquired and commissioned these works which are part of a valuable and diverse collection of around more than 500, some of which are likely to adorn the faculty's new home across four buildings on City Campus.

The collection not only reflects the educational, bicultural and historical foundations of the campus, but also its unique location at the foot of Maungawhau, Mt Eden, says Deputy Dean Dr Camilla Highfield.
"It represents artists who have challenged the status quo on a range of social and political issues.

"For almost a century, teacher education at Epsom has played an important role in the development of a significant number of artists' lives and careers in Aotearoa and enriched the development of teacher educators, art teachers and teacher/artists in this country."

The discovery trail takes visitors past landmarks like the First and Second World War memorial displays, the 1928 caretaker's house, the Sylvia Ashton-Warner Library, the Te Aka Matua ki Te Pou Hawaiki Marae and the beautiful pōhutukawa avenue, planted on Arbour Day in 1935 to commemorate the teachers of the Auckland province who died in World War 1.

The avenue is notable for its canopy of scarlet blossoms at Christmas.

The campus is also home to long-established kauri, rimu, totara, nīkau and phoenix palms, as well as a tennis court and swimming pool dating to the 1930s. The pool's original landscaping included terraces, a fernery and a fishpond, and students originally paid for the water used each year.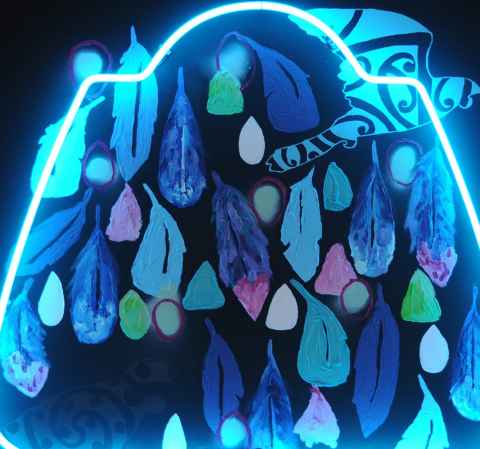 Between 1945 and 1973, the flat area to the side of the pool was the site of a men's hostel, Rae House, which gained some notoriety, both for its cold and spartan conditions and for the "youthful shenanigans" of its up to 100 male residents, according to the guide.

And the only visible signs of a huge top secret underground bunker constructed during the Second World War is a wedge-shaped concrete structure sloping out of a grassy berm and some ventilation stacks near the Gate 3 entrance.

The campus was requisitioned as the Northern Districts Combined Headquarters for the army, air force and navy, which occupied more than 45,000 square feet. The military presence included communications and meteorological units, as well as two underground emergency telephone exchanges and an air raid shelter. The bunker was fortunately never called into use and the land was given back to the Auckland College of Education in 1976.

The idea for the trails is not a new one, says Faculty of Education and Social Work communications and marketing manager Rebecca Bain.

"Art and historic trails were created several years ago and the idea to renew and republish came out of a cross-faculty team tasked with submitting a range of ideas to celebrate our past to the Epsom to City (E2C) steering group."

Rebecca, with a team including content writer Kristine Scherp and marketing assistant Alex Quint, worked with old brochures and documents, discovered a faculty book, did some of their own research and followed up with the original artists for their input.

She says the final art trail was a bit of a challenge as some pieces on the original list were off campus for restoration and others had arrived since, but it came together well in the end.

The University Art Collection adviser Madeleine Gifford and Deputy Dean Camilla Highfield helped with shaping the art content, faculty academics Dr Rose Yukich and Hēmi Dale checked the marae information and Mike Renwick supported the initiative as the E2C project manager.

The informative maps for both trails are available at A Block reception on Epsom Campus and the faculty website also has downloadable copies and additional information on the locations of interest.

While the faculty remains at Epsom, people are welcome to meander along the leafy paths and enjoy the tranquillity before the final move marks the end of an era.

By Julianne Evans