Medical student thrives in motor neuron disease research lab
A year spent in a motor neuron disease research lab is helping give medical student Freddy Hatton a deeper understanding of the human body.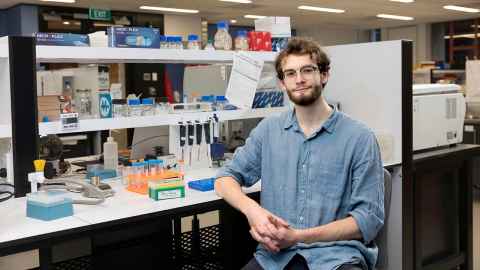 Freddy, the inaugural recipient of the Marcus Gerbich Memorial Honours Scholarship in Motor Neuron Disease Research, completed his third year of medical school last year and is currently doing an honours degree in Medical Science. The degree is not only a chance for him to learn some valuable lab skills before he returns to his regular medical studies next year, but it's also giving him a new perspective on the science behind disease treatment.
Based in the School of Biological Sciences, Freddy is working with Dr Emma Scotter and focusing on amyotrophic lateral sclerosis (ALS), also known as Lou Gehrig's Disease. He says his motivation to learn more about motor neuron disease stems from a fascination he has with the nervous system.
"The nervous system, and specifically the brain, is very interesting to me because of its complexity. To this day, there are still so many avenues available in trying to decipher and understand it. It's sort of like the final frontier of the human body – I guess that really draws me in."
Freddy's lab work focuses on an abnormal pathological signature that researchers have identified.
"I'm investigating cases of ALS with that signature, and I'm trying to find out what that signature represents," he explains.
As a type of motor neuron disease, ALS affects the body's motor neurons, the nerve cells in the brain and spinal cord that control voluntary muscle movement. There is currently no cure for the disease and no effective treatment to reverse its progression.
Freddy hopes his work can play a role in helping researchers identify more genetic causes of ALS, something that could eventually lead to more targeted treatment of the disease. And although modest about his role working in the field, Freddy says it is hugely fulfilling being part of a bigger project that has the potential to help so many people.
"Even if I get to contribute one little thing, it's a step forward."
Freddy says he is immensely grateful to have the support of the Marcus Gerbich Memorial Honours Scholarship in Motor Neuron Disease Research. The scholarship is named after Marcus Gerbich, a valued supporter of Dr Emma Scotter's lab and the Centre for Brain Research who himself had motor neuron disease. It was established by friends and family of Marcus after he passed away in 2022.
"It's great to continue [Marcus'] legacy, working towards changing the future for those with motor neuron disease," says Freddy.
Working in the lab has also been a great learning opportunity for the 21-year-old, who is relishing the chance to get hands-on experience of things he had previously only read about in textbooks.
"Now I feel like I get to go properly in-depth and learn a lot more that I can apply when I go back to med school."
Emma says Freddy has also been a "wonderful addition" to her team.
"He brings a wealth of medical knowledge and never loses sight of how his work might change clinical practice for patients," she says.
"We are very grateful to Marcus Gerbich's friends and family for honouring his vision of advancing ALS/ motor neuron disease research by supporting talented students like Freddy."
Although Freddy is still not sure which type of medicine he will specialise in, he hopes his practice as a doctor will centre around "creating connections" with patients and focusing on the human side of medicine.
"Just being a good person overall, I think, will support being a good doctor."
Media contact
Helen Borne | Communications Manager
Alumni Relations and Development
Email: h.borne@auckland.ac.nz