Student support award gives helping hand to future lawyer
After changing tack late in her studies and switching her focus from science to law, Tara McGoldrick is now working as a judge's clerk at the Court of Appeal in Wellington.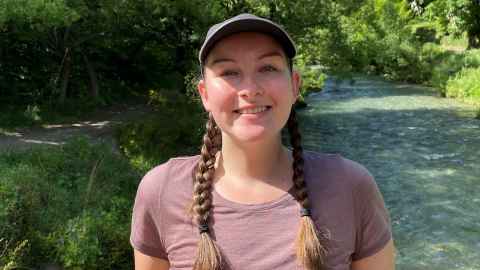 Tara is set to graduate this month with a Bachelor of Laws and a Bachelor of Science. And although she now dreams of becoming a barrister – perhaps one day arguing cases in the Court of Appeal herself – it wasn't until she reached the final semester of her science degree that the 23-year-old realised her true passion lay in law.
"I decided that I'd just take the first semester of law school papers and see what they were like. And if I hated them, it was just one semester wasted. But I ended up really enjoying it – so here I am," she says.
Because it was too late in her studies to combine the degrees as a conjoint, she finished both degrees separately. However, due to the rules around how many courses students can take and get StudyLink funding for, Tara found she was ineligible for financial support by the time it came to completing her final honours dissertation over summer school, something that put her whole law degree at risk.
Fortunately for her, she received a Faculty of Law Student Support Award – something she says was a "huge relief". The Faculty of Law Student Support Award is supported by a number of generous donors to the University's Annual Appeal.
"Essentially the scholarship meant that I was able to pay for those courses and actually complete the degree. It would have been quite horrible to have qualified to do the honours dissertation and have put in the effort to start writing it throughout the year, and then not be able to pay the course fees to actually hand it in and get the honours at the end of the period."
Tara's honours dissertation focused on the legal aspects surrounding accessible housing for disabled people in Aotearoa. Tara says she was inspired to pursue the topic by her mother, a Whangarei-based lawyer with nail-patella syndrome – a rare genetic condition that can cause problems with the nails, bones and kidneys – who is a strong advocate for the disabled community.
Despite her heavy course load, though, it hasn't been all study for Tara throughout her time at university. She also practises karate, and is currently an advanced brown belt, just one step away from becoming a black belt. As well as the mental discipline the martial art demands, Tara says it also serves as a great way to manage stress and balance the mental side of her studies.
"As soon as someone starts trying to punch you in the face, you don't think about assignments anymore," she says. "So it is an excellent way to just take a proper break."
Tara has been working as a judge's clerk at the Court of Appeal since earlier this year, after being offered the position while still studying. While the job, which is a fixed term two-year appointment, has been a "steep learning curve" she says so far it has been an invaluable experience that she is enjoying immensely.
The role has also piqued her interest in criminal law, with her ultimate goal to become a barrister.
"I definitely want to be working in court," she says, "maybe arguing here in the Court of Appeal – with everything coming full circle."
Media contact
Helen Borne | Communications Manager
Alumni Relations and Development
Email: h.borne@auckland.ac.nz