Graduate bridges Māori traditions and engineering
With a vision to combine Māori arts and technology, Paraone Luiten-Apirana is a conjoint degree graduate and professional teaching fellow.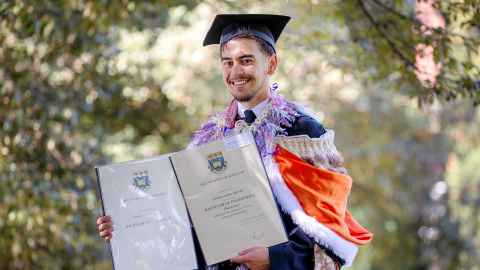 While many people shy away from working with numbers, spring graduate Paraone Luiten-Apirana isn't one of them.
Paraone (Ngāti Hikairo, Ngāi Tūhoe, Te Arawa) now has a conjoint degree, graduating with a Bachelor of Commerce and Bachelor of Engineering (Honours) in Mechanical Engineering.
"I was really intrigued by working with numbers most of my life. The idea of doing something hard like undertaking an engineering degree gave me a new challenge to aspire to," he says.
"As for commerce, I saw this as an avenue to connect with fellow Māori tauira and an additional pathway to boost my career options after graduating.
"When I came into the University, I was still at an age where I wanted to explore what was available for me, but I wanted to do it in a way where I could have options."
Paraone is a former Te Māna Pākihi president (Business School), and former Ngā Tauira Māori treasurer (Māori Students Association) and is committed to creating pathways for Māori student success at the University.
To him, success looks like being up for a challenge no matter what the task is, breaking down limitations and, most importantly, having fun.
He's now a Professional Teaching Fellow in the Faculty of Engineering and aims to weave Te Ao Māori into his work. He will also be pursuing his doctoral studies.
"There aren't many Māori in the engineering space, but it doesn't have to stay that way. I hope my contribution here can make it a little better," he says.
Can we make a mechanical system that weaves a whāriki for example, or carves a pou. We have existing technologies like the keys you get at a 21st that are laser cut. How do we best take it further in a way that's upholding tikanga and tika to Māori?
Paraone keeps himself firmly grounded in Te Ao Māori with whakairo (carving), tukutuku (stitching), and raranga (weaving). He has had the privilege of being mentored by renowned Aotearoa weaver, Dr Maureen Lander, and teaches the basics of carving for keen learners.

"I've recently finished a collaborative project with my whānau and friends where we wove tukutuku panels. I'm in the final stages of stitching it together, and it will sit in my office as a marker of this journey I've completed, and the journey I'm about to embark on."
Now, he can combine those interests with his research which will explore the adaptations of post-colonial technologies, like metal chisels and tattoo guns, and applying engineering technologies to create Māori art.
"I want to know on a philosophical level if Māori are okay with the continual evolution of our arts, how much we want to retain our pre-colonial history methods, and how much we will allow them to be dynamic and evolve," he says.
"As a mechanical engineer, I'd be keen to explore things like making a mechanical system that weaves a whāriki, for example, or one that can carve a pou.
"We have existing technologies like the keys you get at a 21st that are laser cut. So it prompts me to ask these questions: Can we take it further, and if so, how do we best take it further in a way that's upholding tikanga and tika to Māori?"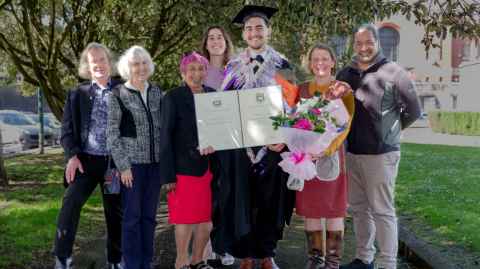 Paraone spent much of his upbringing in Gisborne, and first developed his skills as a carver at Gisborne Boys High School.
"I was year 11 when I began learning how to carve, and it was actually so I could carve my sisters 21st key by the end of the year."
He excelled academically, with particular interests in the sciences, maths and English. He says because he excelled, he was able to dedicate time to strengthing his skill in whakairo.
"I thrived in it so much that I'd bought my own chisels and would work on it outside of school by myself. While I'd study in Tāmaki Makaurau, there weren't many spaces to carve. So when I'd return home for the holidays, that's what I'd spend my holidays doing."
Paraone says he inherits some of his best traits that have pushed him through academia from his parents.
"My dad really enjoys crazy endurance events like biking around Lake Taupō eight times. He got my whānau into endurance events like triathlons and walking, and we'd go together as a giant pod."
"Mum is a historian and has always strongly encouraged my education and getting involved in Māori arts. I learned a lot from Mum."