Long road to graduation for innovative engineer
For Sundra Tatiparthi, graduation was more than a milestone; it was a family celebration over a year in the making.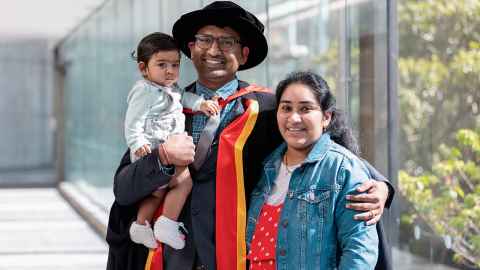 For over a year, University of Auckland PhD graduate Sundra Tatiparthi had been putting off graduating so he could attend with his wife and daughter.
But the wait ended up being longer than he had expected when his daughter suffered from complications after being born two months premature.
This week, the proud father was finally able to mark the occasion with both of them by his side during the University of Auckland spring graduation ceremonies.
"Graduating is an important moment in my life, and I wanted my family to be there with me," he says.
Family is everything to Sundra – and for good reason.
He lost both his parents when he was only five years old and was raised by his uncle and grandmother in Andhra Pradesh, the state in southern India where he was born.
He worked as a teacher at the Faculty of Engineering to help pay for his PhD, which focused on addressing the challenges of maintaining sanitary and stormwater sewer systems.
"These hidden underground assets play a crucial role in preventing diseases and health risks by managing wastewater and stormwater runoff. However, due to their concealed nature, regular assessment and maintenance are often neglected, leading to blockages, overflows and environmental contamination," he says.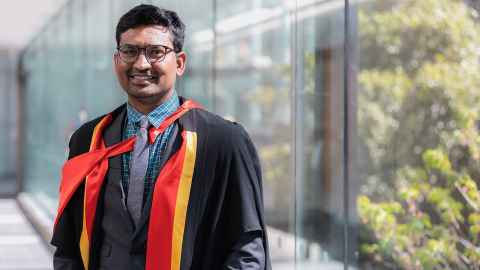 His research has led to the development of a "smart" sensor that uses ultrahigh-frequency radio-frequency identification (UHF RFID) technology to help to detect blocked sewage pipes.
The battery-free biodegradable sensors are about the size of a lighter and are designed to be flushed down a toilet or released directly through a gully trap. They are inexpensive to produce and have a long lifespan.
"Unlike traditional methods such as dye testing or closed-circuit television, which can be costly and time-consuming, the UHF RFID sensors provide a low-cost, high-throughput and automatic data-driven approach to monitoring.
"The UHF RFID system proves capable of monitoring various aspects such as blockages, illicit connections and water flow within sewer networks. Ultimately, this research contributes to the development of a robust and efficient solution for maintaining the health and functionality of sewer systems, thereby reducing health risks and environmental contamination in urban areas."
Sundra and his team in the Faculty of Engineering conducted two successful field trials with Auckland Council's Healthy Waters department, Watercare and Tonkin + Taylor. The next step is to bring the technology to the wider industry.
Sundra is currently working as an environmental engineer, specialising in drinking water, stormwater and wastewater for Pattle Delamore Partners, an engineering and environmental consultancy.
He says he couldn't have done his PhD without the support of many people in his life, especially his wife, Rohini Tatiparthi, who works as a CAD Designer for Tonkin + Taylor.
"Doing my PhD was my dream. It takes hard work and commitment, but I believe that if you do your best, good things will come to you."