Grad's journey from feeling lost to working for a Big Four firm
Self-confessed data nerd Kaeleigh Karrol wasn't entirely sure which direction she wanted to head in, a new University of Auckland offering, however, helped pave the way.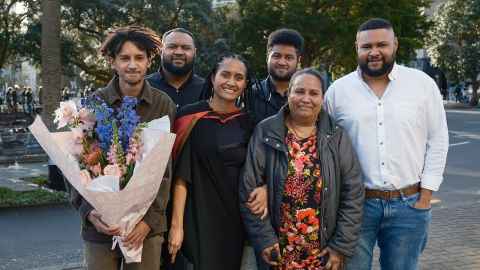 Laboratory life proved a lacklustre vision for spring graduate Kaeleigh Karrol, who switched her career trajectory from biomedical science to business analytics after learning about a new programme.
On completing her Bachelor of Science, Kaeleigh started to pursue her masters in the same area before deciding it wasn't for her.
"I realised that actually, it wasn't the right fit for me to enter into that kind of study, which often has a large laboratory research component. But after making that decision, I felt a little bit lost."
One of Kaeleigh's university friends, however, who knew of Kaeleigh's disposition for data analysis, suggested the Business School's Master of Business Analytics.
The practice-focused programme, designed to equip graduates to interrogate business challenges and to source, manipulate and analyse data to address issues and inform organisational strategies, turned out to be right up Kaeleigh's alley.
"I had a look at it and thought, well, if I went out into industry now, my main skill would be lab work, which is why I didn't want to continue with biomedical science, so I decided to apply, and I got in!"
This new route proved an opportune one, and Kaeleigh loved every element of the programme. Her interest in how data can tell a story and paint an overarching picture of how things function in an organisation and how it can be used to improve operations grew.
"I'm very lucky I found the right fit in this new offering. I was in the second-ever cohort of the masters, and I feel like I landed exactly where I was meant to be.
"I never imagined I would study business analytics when I was younger - I thought I would be a lawyer. There was some pressure to follow that pathway, but I'm so glad that I stuck to my interests and I ended up in a really good place."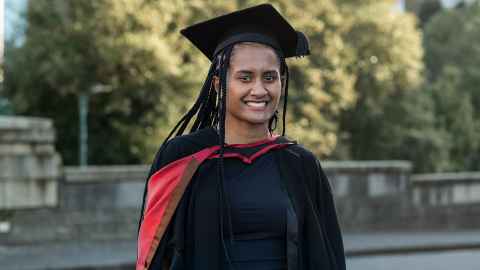 Fantastic four opportunity
The graduate, who has four brothers and whose parents hail from Papua New Guinea, started her new role as a technology consultant at EY, one of the world's biggest auditing and consulting firms, in July.
"One interest I developed during the Master of Business Analytics was data visualisation. I was fortunate to be put into a project at EY where I can grow those skills as a reporting analyst.
"EY is such a large company, and it really emphasises learning. In terms of the environment, I think it was a great choice for me because it's a very people-centred organisation. They have such a nurturing culture, and there are 'counsellors', usually managers or senior managers, who help you with career advice and progression. They support you to get to where you want to be within the industry or to figure out what to aim for next. This has already been so helpful because it's hard, never having been in this commerce environment, to know exactly where I want to go."
Kaeleigh spent most of her formative years in Tauranga, where she went to school and lived with her mum and brothers.
"It was hard for my mum with five children, but she gave us stability and a reason to pursue tertiary education. That was one of her biggest things; she was a big motivator behind my university journey. At the same time, she never put too much pressure on my brothers and I to be successful."
Kaeleigh has a lot of cousins and other family members back home in Papua New Guinea, where cultural practices and traditional attitudes can act as barriers for women and girls trying to access education.
"Life is so much simpler there, and that kind of simplicity can feel fulfilling without as much technology and distractions. But I'm also so fortunate to live in New Zealand, and I can support my cousins to further their studies, complete high school and go out and get jobs. We send money back home and do our best to support our family."
Meanwhile, Kaeleigh's internship during her masters came through TupuToa, which supports Māori and Pacific students with real career experiences.
She says the organisation helped her land a spot with an e-commerce travel company. "I got to do my own project over the three months I was there, it involved data visualisation and data engineering and it was an excellent learning experience."
Big sister: big advice
Now that Kaeleigh's university journey is over, she's supporting her youngest brother, who's studying commerce and international business at the University of Auckland.
"I encouraged him to join the TupuToa programme too, and I really want him to take up a lot of the opportunities available to him, like networking events, internships, tutoring sessions and Pacific social events. I told him that he needs to network in class, create a LinkedIn profile, and do all of these things to set himself up to be in the best place he can be when he graduates.
"Many people miss that advice that comes from having someone who has gone before you in university, especially if you're Pacific and your parents haven't attended university before, or you don't have older siblings who have finished university. I've definitely given my brother a lot of advice!"
Media contact
Sophie Boladeras | Media adviser
M: 022 4600 388
E: sophie.boladeras@auckland.ac.nz