Beyond recycling, what to do about climate change?
Opinion: The first leaders' debate was a sobering reminder that we're not taking climate change seriously enough. Kevin Trenberth looks beyond the usual talking points.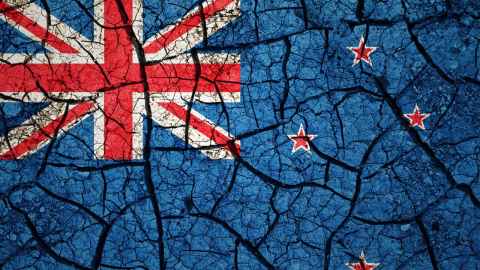 Chris Hipkins and Chris Luxon were both asked about climate change at the end of the firsr eaders' debate, and neither response was helpful.
Both talked about cutting emissions – and in a personal capacity, recycling – but neither addressed the most important issue staring us in the face, and that is recognising that climate change is here, it is accelerating and getting worse, and it has consequences. We must adapt to the changes, plan for them and build resilience, and we need to do so urgently.
Cutting emissions in New Zealand is important, but won't prepare us for what is already happening. Since about 2010, New Zealand has emitted about 76 million tonnes of carbon dioxide, with slight declines. Meanwhile China emitted 8,617 million tonnes in 2010, increasing to 11,472 in 2021, an increase of 260 million tonnes per year. If New Zealand entirely eliminated our emissions, in 3.5 months there would be no difference!
And what about methane? Methane is a powerful greenhouse gas that has a lifetime of only 10 years or so before it is oxidised to become carbon dioxide, which hangs around for many centuries before being removed from the climate system.
New Zealand's carbon emissions come roughly equally from biogenic methane and carbon dioxide. There are two kinds of methane. There is fossil methane, also called natural gas, which is mined and leaks from orphan mines, pipelines, and fracking. There is also biogenic methane, which comes from carbon dioxide in the atmosphere being taken up by grass during photosynthesis, eaten by livestock, and produced by rice paddies as well as ruminants, such as cattle, sheep, deer and goats, which produce methane as a by-product of their digestive processes. Both ultimately end up as carbon dioxide. As the biogenic methane process is entirely circular, unlike fossil methane, if stock numbers aren't increasing, biogenic methane won't either, nor will levels of carbon dioxide.
The best answers to the questions put to the politicians would be about how they plan for and prepare for future extremes, and deal with the damage already apparent. How will national and local governments prevent building in vulnerable coastal regions and flood plains? How can those who unfortunately did so in the past be compensated?
Yes, we must cut emissions, and we can do a lot more in ways mostly not talked about, and perhaps the most important thing is to insist that other countries do their part. But meanwhile, we experience atmospheric rivers of increasing intensity, a major rain bomb in the Auckland area with 280 mm of rain on January 27, and a major cyclone, Gabrielle, in February that devastated eastern parts of the North Island. While part of this pattern and the track of such systems relates to the prevailing La Niña conditions over the three years to April 2023, the unprecedented amounts of rain are a symptom of climate change. As we move into a strong El Niño over the next year, the risk of quite different dry spells and even wildfires emerges, especially in Australia.
The best answers to the questions put to the politicians would be about how they plan for and prepare for future extremes, and deal with the damage already apparent. How will national and local governments prevent building in vulnerable coastal regions and flood plains? How can those who unfortunately did so in the past be compensated? How do we build and insist on much better drainage systems and water management systems, to save fresh water from the times we have too much for the times we do not have enough? With New Zealand's lakes and hydroelectric power, a framework is already in place. We should plan for 30cm of higher sea levels around the coast over the next century.
On the emissions side, there is so much that could be done and isn't but likely requires some fundamental changes and longer-term outlooks. Rebuilding cities to promote bicycles, e-bikes, and e-scooters, putting a congestion charge on all cars, maybe developing outlying lots (park'n rides) where you pick up a small e-vehicle for the day (like posties use, for example, which are rain proof).
Continued emphasis on mass transit, buses, rail, and ferries make obvious sense. Retaining and building the surcharge on big and high consumption internal combustion engine vehicles while continuing to subsidise e-vehicles should play a role, but that also requires more electricity and recharging facilities.
Talking about electricity though: New Zealand is severely lagging in capitalising on rooftop solar power, largely because there is no net metering (in which a unit of power generated locally and fed into the grid has the same price as a unit of power used). Currently, power fed to the grid earns about 8c per kWh while the cost of the kWh is about 35c. And this is for power that is free for utilities – they aren't required to maintain the equipment.
But the way electricity is managed and sold in New Zealand makes managing power from solar or wind difficult, and electric companies actually discourage solar because of intermittency. But intermittency could be dealt with in an integrated system with hydro-power. In times of excess power, water is simply stored behind a dam. Moreover, it is now quite inexpensive to have rooftop wind power through small windmills, which nicely complement solar.
New Zealand will need to plan to do away with coal consumption at Huntly and in industries drying milk to create milk powder, etc. Biofuels would help, from wood in particular; could we find a way to use all the wasteful and often destructive 'slash' and create torrefied wood pellets, that are light-weight, high calorie, and easily transportable?
Our government will need to prioritise infrastructure for the storage and transmission of power, to move electricity from where it is generated to where it is needed.
Finally, it is important to expand the climate commission to consider longer-term perspectives and realise New Zealand's vulnerability with regard to shipping costs and air travel, and dependence on tourists, as a price is put on carbon.
These are immense but long-term problems. They do not have to be solved overnight. They require investment, which usually means running a deficit and paying the cost off as the benefits accumulate. But where are the investments and incentives from the government? No doubt part of the problem is the too short three-year term.
Kevin Trenberth is a Distinguished Scholar at the National Center of Atmospheric Research in Boulder, Colorado, and an Honorary Academic in the Department of Physics at the University of Auckland.
This article reflects the opinion of the author and not necessarily the views of Waipapa Taumata Rau University of Auckland.
This article was first published on Newsroom, Beyond recycling, what to do about climate change? 21 September, 2023
Media contact
Margo White I Research communications editor
Mob 021 926 408
Email margo.white@auckland.ac.nz