Merryn Tawhai: not a zero-to-hero move to be director
Professor Merryn Tawhai's path to promotion started when she became a research fellow at the Auckland Bioengineering Institute in 2002. Now she leads the team.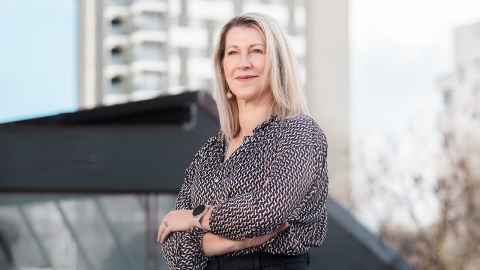 Because of the culture of openness and collegiality at ABI and the attitudes of the people around me, I didn't have to think about my sex or gender as I was
progressing through my career. I just carried on, and did what I did.
When Professor Merryn Tawhai was announced as the new director of the Auckland Bioengineering Institute (ABI), it wasn't much of a surprise to many.

While it is a flagship position in New Zealand and on the world stage, Merryn's new role is not a zero-to-hero move. For the past decade, she has supported the University's largest postgraduate research institute as its deputy director and has been an integral player in the ABI's strategic direction and vision.

Merryn knows she is now leading "a fantastic group of people".

"I appreciate the trust they have put in me. Stepping into the role of director when you know you have the support and trust of your colleagues is quite special."

This pinnacle position isn't just about her stepping up.

"We have had a visionary leader in place, Distinguished Professor Peter Hunter, an exceptional person, so there are very large shoes to fill. The change of leadership recognises though that the ABI is facing an exciting and different future. We now need to find our way forward as a collective."

Merryn is one of a growing number of senior female engineering scientists at the ABI, including associate professors Alys Clark and Kelly Burrowes and Dr Jenny Kruger.

Despite being a woman working in the pointy end of STEM (science, technology, engineering, and mathematics), Merryn hasn't felt confronted by gender-based challenges.

"Because of the culture of openness and collegiality at ABI and the attitudes of the people around me, I didn't have to think about my sex or gender as I was progressing through my career. I just carried on, and did what I did."

She says she has been fortunate to have had very strong mentors in research and leadership, including Peter and Distinguished Professor Dame Jane Harding as well as other academics overseas.

As she has risen to more senior levels, she appreciates the place of role models for others.
"Whether you are a woman, Māori, or of Pacific descent, having senior role models is really important."

Merryn's appointment came after an international search, but she believes her perspective as a research-focused academic here in Aotearoa New Zealand provided her a distinct advantage.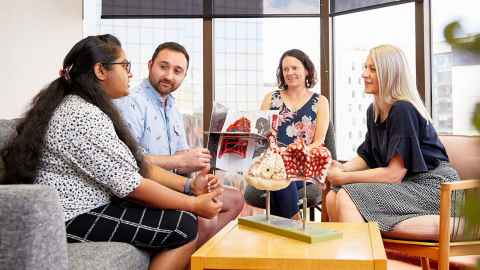 "The New Zealand research system and the funding available here have limitations compared to other regions. It is really important to understand these challenges to understand what our researchers face daily."

Twenty-three years ago, Merryn was on the final stretch of her PhD in Engineering Science when Professor Hunter, one of her supervisors at the time, opened a fledging new entity – the ABI.

Merryn was raising a new entity herself – her second daughter, who was born halfway through Merryn's doctoral studies.

Back then, a cluster of engineering scientists who had graduated from the University of Auckland had headed to the likes of University of Oxford and McGill University in Quebec to undertake prestigious postdoctoral fellowships – and had returned full of promise and enthusiasm.

For Merryn, the balance of a career in engineering science and motherhood steered her into an unworn path. Initially supported by commercial funding and her first Marsden grant in 2001, and then as the Maurice Paykel Postdoctoral Fellow in 2004, she began her career in "the best possible place in the world" and is now one of a wave of senior scientists and engineers who have developed their research careers completely under the ABI umbrella.

Merryn says she has been fortunate to have been in the ABI as it has grown.
"You can't look elsewhere in the world and say, 'It's a shame I didn't get that experience overseas', because I had the best opportunities here."

Merryn's PhD focused on developing an anatomically based mathematical model of the human lung to better understand how gases, water vapour and heat behaved inside the organ. From her first day on the job at ABI, she was charged with leading and building the Lung and Respiratory Systems group to develop a mathematical model of the lung from the cellular level through to the whole organ.

The aim is to help understand the pathological changes that can occur in disease and to develop new digital technologies to predict patient response to treatment. At its inception, the group included Merryn and her first PhD student – now Associate Professor Kelly Burrowes – and now comprises a multidisciplinary research programme in applied computational physiology of the respiratory system with about 20 ABI researchers.

"The respiratory system is fascinating from a bioengineering perspective because it brings together multiple processes that we consider fundamental to engineering – fluid flow, tissue mechanics, gas and heat exchange – through this beautifully intricate and delicate structure."
 You can't look elsewhere in the world and say 'shame I didn't get that experience overseas' because I had the best opportunities here.
In the immediate future, the ABI is poised to leverage a surge of demand for digital technologies in health tech which are attracting international research investment.

"With ABI's stellar record of nearly 30 years of computational physiology and bioinstrumentation, we are in a prime position to leverage ourselves as a world leader," says Merryn.

"There is huge potential for digital humans to be transformative technology in healthcare. The ABI is already the leader in infrastructural capability to enable digital humans to be more than just a concept. This is a unifying whole-of-institute initiative."

All this world-class research requires world-class funding. Through Merryn's efforts to date, both individually and in collaboration with other ABI staff, she has seen in excess of $65 million come into the Institute through domestic and international funding.

"The fact remains that we are highly dependent on our research grant income and ensuring that our researchers are supported so we don't lose the capability we have grown and invested in."

As the ABI's new director, Merryn has many balls in the air. She is balancing the demands of a new leadership role and running a successful research programme, while staying involved with the research projects she currently leads. She is also continuing to grow her own research area and ABI-wide opportunities.

"We have several new initiatives under way to provide longer-term financial security for our researchers so they can focus on what they are really good at, which is doing their research, being innovative, coming up with new ideas."

Megan Fowlie
This profile first appeared in the October 2023 UniNews.