In memoriam: Professor Donal Ian Brice Smith
Waipapa Taumata Rau, the University of Auckland, and in particular the Faculty of Arts, expresses its sadness at the passing of Emeritus Professor Donal ('Don') Smith at 89 on 27 September 2023.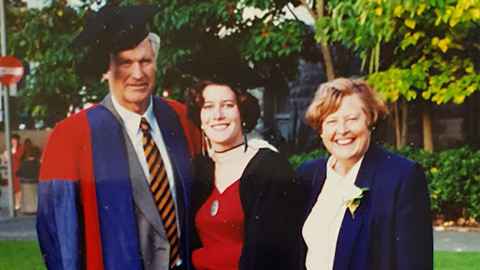 Don Smith, who published as D.I.B. Smith, was a remarkable individual; a true luminary in both the athletic and academic realms.
Born in Auckland, Don received his education at Auckland Grammar School and the University of Auckland where he earned a BA and MA. Don was an outstanding student and received the Eliot Davis Memorial Scholarship in 1956 which enabled four years of doctoral study at Merton College, Oxford.
His doctoral thesis, An Edition of The Rehearsal Transpros'd by Andrew Marvell, with Introduction and Commentary (published as a monograph in 1971), led to a distinguished career, at first the University of Toronto, then from 1973, as professor at the University of Auckland.
Though a specialist in the literature of Milton and Marvell, Don was also celebrated for his memorable research and teaching in all aspects of English. His edition of Robin Hyde's Passport to Hell (Auckland University Press) remains an important contribution to New Zealand literature.
For many years, Don taught twentieth-century fiction in our largest stage one course. Lecture theatre B28 was often filled twice over, as students listened to his enthralling lectures on Joyce, Lawrence, Faulkner, Pynchon or Jean Rhys, delivered entirely without notes and in a continuous flow of perfect sentences.
In athletics, Don was a standout middle-distance runner who proudly represented New Zealand on the international stage. He participated in the 1958 British Empire and Commonwealth Games in Cardiff, finishing fifth in the 880 yards, and in the 1960 Rome Olympics, making the 800-metre quarter-final.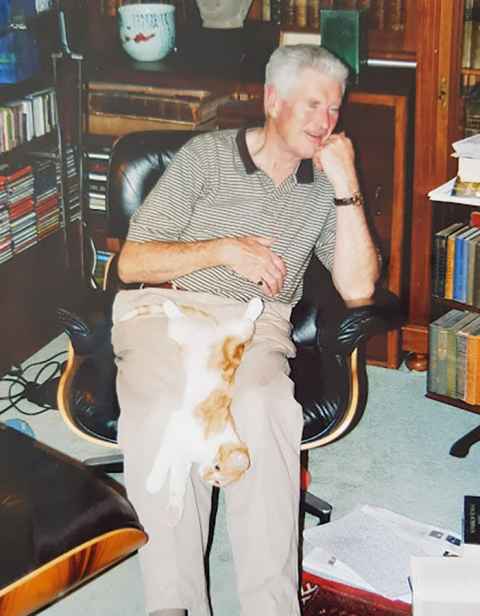 In 1959, Don married Marjory Jill Evans ('Jill') and they had three children, Matthew, Penelope and Caitlin, a renowned jazz vocalist, who performed at the retirement parties of several former English Department professors.
In her eulogy at his funeral, Caitlin remembered that her father, who she adored, had a sense of "unspoken knowing" about him, which was true of many aspects of his life.
"It was there in his deep appreciation of art, music, literature, truth, justice, meaning, and beauty. He just got it. As a brilliant artist himself, he could sketch anything freehand. When I couldn't attend a school art trip because of my limited vision, Pa sketched me One Tree Hill beautifully. That was far more precious than being there with the other kids."
She recalled his favourite spots, which were either "aproned in the kitchen with a tea towel over one shoulder, sat at the head of the dinner table with a glass of wine, or sitting in his corner of the lounge, reading, marking, and once again listening to music as a cat lay asleep on his outstretched daddy-long-legs".
Another of her recollections was his focus on excellent time keeping, thanks to his prized collection of watches.
"He was acutely aware of how long any distance could be walked, run, or driven, although his lectures would often run over time and the next collection of students would have to wait outside for B28 to empty as Pa finished whatever lecture he was giving."
And she recalled that Don "had no time for gossip, falsity, frivolity or small talk".
"In fact, I suspect he wasn't capable or tolerant of any of those things. His judge of character was second to none as he was immune to charmers and saw through the façade of ego and bravado."
Former student Dr Jack Ross, whose masters thesis in the University English Department Don supervised, recalled in his blog tribute that, 'Is it enjoyable?' was Don's central criterion for a book.
"He was certainly interested in the finesse and skill behind particular pieces of writing, but he still seemed to steer instinctively towards the anecdotal and – above all – towards enthusiasm in his approach to what he read."
And Jack resolved to do likewise.
"Much later, when I in my turn became an English academic with my own graduate students, I tried to give them as much as possible of the same formula: read the book, not – till much later – the secondary literature about it. If you don't like it, acknowledge the fact, but then try and work out why."
Don's legacy endures not only through his academic work and athletic achievements, but also in the hearts of family, friends, and the countless students he inspired.