Funding boost for visionary ventures
Two forward-thinking engineering start-ups have scored seed funding for their innovative approach to fitness and pest detection.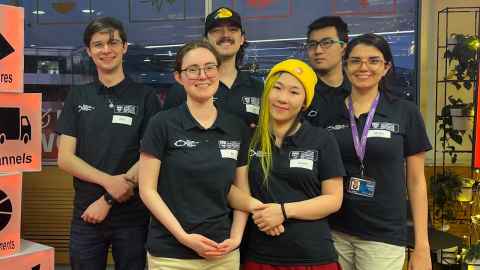 Greenhouse growers have long grappled with the challenge of plant diseases and pests, which account for up to 40 percent of crop losses.
Now, a new venture led by a team of Faculty of Engineering staff and students aims be the seed of change for these growers.
The team were runners-up in the Velocity $100k Challenge, an entrepreneurship competition that has helped start-ups find success on a global stage.
They received $15,000 seed funding for their venture, PlantPeepers, a monitoring tool to help greenhouse growers detect plant diseases and pests in their early stages.
"The primary contributor to crop losses is the delayed detection of diseases, leading to outbreaks in greenhouses," says Mahla Nejati, PlantPeepers founder and research fellow at the Faculty of Engineering.
"This issue was brought to our attention by growers and pest control companies seeking a solution. In response to this challenge, we developed and tested our advanced monitoring system specifically tailored for New Zealand greenhouses."
The team, which includes students Violet Liu and Jason Chen (Faculty of Engineering), and Els Jermyn (Faculty of Science), say PlantPeepers helps crop growers to proactively prevent outbreaks and reduce the need for pesticides, providing them with a more sustainable and efficient approach to managing their crops.
Its disease detection system uses an agriculture robot with a multispectral camera that can differentiate between diseased leaves and healthy ones, allowing for early detection.
"Our approach yields significant environmental benefits by employing standby robots in the greenhouse as opposed to manual scouting. This not only reduces the need for people to physically travel to the greenhouse, consequently lowering energy consumption and carbon footprint, but it also enhances food production efficiency by mitigating crop loss," says Mahla.
So far, the system has been used to effectively detect spider mites on bean plants. The next step is to enhance the detection algorithm to cover a wider range of crop species, pests and diseases.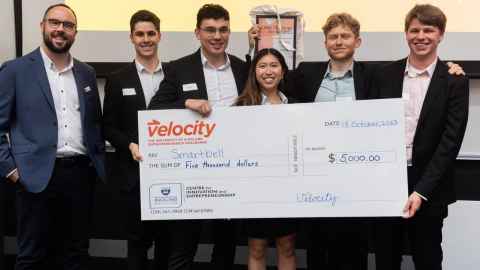 The future of fitness
SmartBell, a venture from students in the Faculty of Engineering and Faculty of Medical and Health Sciences, tied for third place with three other teams in the Velocity $100k Challenge and received $5,000 seed capital.
Matthew Welcome, Katrina Chan, Anthony Mulder, Rory Reade and Carlos Brown hope to revolutionise the way people approach weightlifting and exercise by disrupting the archaic weight-lifting scene and helping individuals elevate their workouts while preventing injuries and muscle imbalances.
The project is rooted in the idea of creating a smart dumbbell companion for gym-goers of all ages, skill levels and abilities. The team have developed a set of machine learning-powered dumbbells equipped with cutting-edge sensors. These smart dumbbells automatically recognise and record a wide range of exercises, including the number of repetitions, sets and form quality. This data is then integrated into a companion app, meaning manual tracking is no longer needed.
The team's ultimate goal is to develop an IoT (Internet of Things) gym ecosystem that helps users achieve their fitness goals more safely and efficiently.
The idea for SmartBell stems from the personal experiences of founder, Matthew Welcome. He encountered numerous challenges at the gym, including difficulties in tracking his exercise performance, adjusting future workouts based on objective data and receiving form-related feedback. These issues often lead to poor performance and, more importantly, an increased risk of injuries.
One of the key benefits of SmartBell is its ability to provide real-time feedback on form to prevent injuries and muscle imbalances. It also offers personalised workout routines, optimising exercise selection and volume to help users achieve their fitness goals more effectively.
The team's next step is to develop the SmartBell prototype into a minimum viable product, with plans for a trial phase at select gyms, including the University of Auckland Rec Centre, says Matthew.