Sport and Recreation can customise free active wellbeing opportunities for you.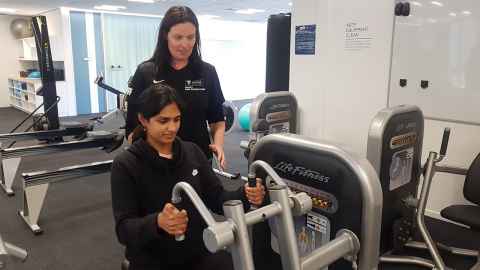 The Actively Well programme provides free and confidential support and services to students at the University by breaking down those barriers that may be preventing you from exercising and being able to support your physical wellbeing. These barriers may include financial, health issues, injury, disability or mental health struggles. 

Support and services on offer
One on one consultations and ongoing support for your physical wellbeing, including restorative practices, nutrition, scheduling and planning.
Nutrition advice and support.
Personalised fitness programmes.
Premium programmes - choose from self defence, reformer pilates, strength camp, boxfit or girls squad.
Access to the Recreation Centre including group fitness classes, seminars and webinars. 
Marine sports sessions. Choose from waka ama, sailing and stand-up paddle boarding.
Fit3D body scans and fitness testing.

Referrals to Campus Care, Health & Counselling and Disability & Equity Support.
Support is available in person, via zoom, email or phone.   
Find out more about the University's Health & Wellbeing Services
How to get support
Our health, wellbeing and fitness team are available to support you. All you need to do is fill out the online form below and one of our team members will be in touch with you. If you have any questions about out offerings, please get in touch at activewellbeing@auckland.ac.nz.
If you feel you or a peer need additional wellbeing support that falls outside of our Actively Well offerings, please reach out to the Te Papa Manaaki | Campus Care team.
Please note, all support is free and confidential. 
Testimonial
"The Sports and Recreational Centre have truly been a strong source of support for my health. I had recently contacted Campus Care about my mental health issues and they got me in contact with Michael and Stefan. Both trainers helped me through testing my abilities, creating an exercise and nutrition plan. Although I am still going through mental health issues, interacting with the Sport and Recreation Centre have improved control of my life and other improvements in my life. I would go far to say that the services they offered were one of my only reasons why I have still functioned in my studies. I know I am not the only person who deals with mental health issues and I think these services can help improve the mental health of the University as a whole!!"  - Anonymous student