Zheyu took part in a dual masters programme and graduated with a Master of Science majoring in Earth Sciences from the University of Auckland and the China Geosciences University, Beijing in 2017. He has gone on to pursue a PhD at University College London.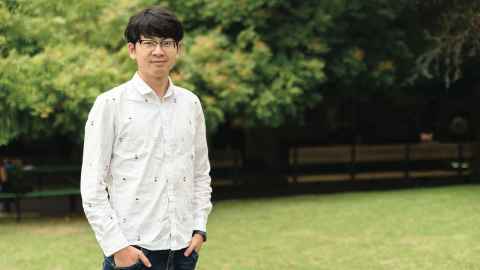 "I studied for a Master of Science (Earth Sciences) under the institutional dual masters agreement. When I was in high school, I was inspired by the BBC documentary Earth – this amazing planet, from magnificent volcanic eruptions to continental drift, fuelled my fascination with geology. In 2008, a severe earthquake in Sichuan, China gave me an understanding of the real power of nature and how weak human beings are in the face of disaster. I decided to dedicate my energy to using geology to help people understand and prevent these natural disasters."
A key factor in my decision to apply for the dual masters programme was that the University of Auckland is the best university in New Zealand and is a leading research institution. Some of my professors here are world-renowned researchers in their field. With this programme, I get two masters degrees when I graduate, making me more employable and giving me an edge when it comes to my PhD.
"My research area was the forces in Sailor's Grave, a lovely beach in Coromandel Peninsula with stunning scenery to enjoy while doing my field work. While some of the experiments I did were very challenging, support from my professors and peers helped me a lot and I can't thank them enough.
"My experience in New Zealand not only enriched my research, but also gave me a competitive edge compared to other students in China. My advice to future students would be go get it. Be brave and never stop. The University of Auckland is a good choice for your future and you will not regret it!"