Yueyuan, from China, is studying towards her dual masters degrees – a Master of Information Technology at the University of Auckland and a Master of Management Science and Engineering at China University of Geosciences (Beijing). She received a University of Auckland International Student Scholarship in 2017.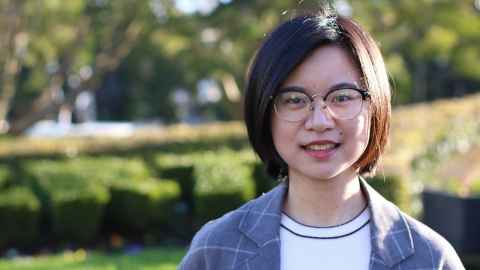 "The dual masters programme between China University of Geosciences (Beijing) and the University of Auckland made it easy for me to apply and study here, and the International Student Scholarship I received significantly alleviated the financial burden on my family."
The University of Auckland is an outstanding university which is ranked among the top 100 in the world.

"I am determined to work in the area of data mining, so I mostly took courses in that area and on machine learning, all of which will be useful for my future job hunting in this field. The academic staff at the University are very supportive, and I found many of the workshops interesting. For instance, the English Language Enrichment (ELE) workshops are worth a try if you are not a native speaker of English, and I especially enjoyed the various "Let's talk" learning groups.
"Life in Auckland is peaceful and I love its multiculturalism and open-mindedness. I joined the Data Science Club at the University where they provided many talks and workshops helpful for boosting my data science skills.
"Also, the Career Development and Employability Services (CDES) helped me check my CV and put on other workshops that were useful for job hunting. I successfully found my summer internship opportunity on the CDES website."
Yueyuan did an internship at Halo Business Intelligence in Auckland from November 2017 to February 2018. Joseph Tan, the Vice President, wrote that "Yueyuan is honest, responsible and smart. She has a quiet personality and is easy to work with."