Marie comes from France and is studying towards a Master of Energy at the University of Auckland. She was the recipient of an International Student Scholarship.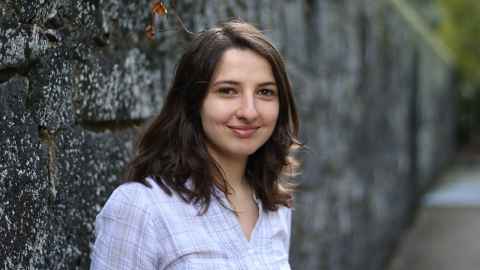 "Energy is one of the biggest challenges facing the next generation. The necessity of tackling the climate change issue, and learning how to build a more sustainable world, influenced me to enrol in a Master of Energy at the University of Auckland. The programme contains classes on environmental management, energy technologies, and business, enabling us to approach these issues from different angles.
"The idea of achieving a masters degree in a foreign country is an important goal for me."  
My desire to explore a new culture, a new country, motivated me to study at the University of Auckland, which is renowned internationally. In fact, it is considered the best university in New Zealand and is ranked in the top 100 universities in the world.  
"The courses on offer really appealed to me, and being able to choose my courses is different from France and something I appreciate.
"The things I love most about living in New Zealand are the beautiful landscapes and closeness to nature. Even in Auckland City, nature is never far away and there are a lot of things to do and visit. The museums are amazing and really interesting – most of them are free for Auckland residents. Furthermore, Auckland is a melting pot, you can meet people from all around the world and everybody seems to have an open mind.
"In the future, I would like to work in NGOs (non-governmental organisations) in the field of renewable energy or sustainability. Completing a Master of Energy degree at the University of Auckland will allow me to gain skills in social change, economics and policy that I would not have had if I stayed in France. These skills will allow me to apply for more general jobs, and not only for engineering or technical jobs."