Tarini, from Sri Lanka, is studying towards a Master of Public Policy and was awarded the International Student Excellence Scholarship.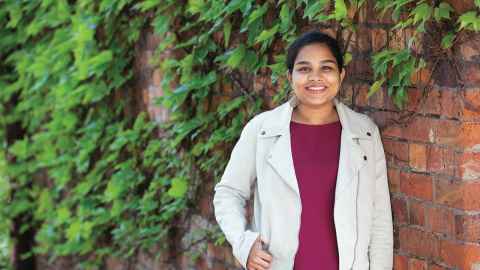 "After completing my undergraduate degree in sociology, I wasn't sure about what to study for my masters. I decided to work for a year which led me to realise I was interested in how social problems can be solved practically. Public policy is ideal for this as it teaches you the basics of defining, analysing and solving problems. Moreover, public policy is a versatile area of study because it hones your skills in research, writing and communication, which are crucial for jobs in a range of industries.
"Coming from a background where my family is supporting my education, it was a relief to receive the International Student Excellence Scholarship. It has definitely eased the financial burden on my parents and my own anxiety, knowing that part of my tuition fees are covered."
Studying the Master of Public Policy at the University of Auckland has given me a versatile and transferable skill set which will equip me well for work in different organisations and industries.
"I was motivated by the flexibility of the Master of Public Policy (MPP) programme, as I could tailor my degree to suit my academic and research interests. The level of support provided to students by the University, both academically and emotionally, was another factor that was important to me.
"I'm currently working on an interesting project as part of my internship at the Ministry of Business, Innovation and Entrepreneurship. I'm doing a literature review of megatrends expected to impact New Zealand's economy in the next ten years, to identify whether robust findings exist on this topic. The internship is a component of the MPP programme, and it has been a great opportunity to make connections in the policy arena and to get a taste of what working in policy in the public sector is like.
"I would like to work in the public service or in a think tank, in policy research and communications. Studying the Master of Public Policy at the University of Auckland has given me a versatile and transferable skill set which will equip me well for work in different organisations and industries."