Viktoria is studying towards her Masters in Law at the University of Bristol in the United Kingdom. She was the recipient of a Northern Hemisphere Summer Research Scholarship in 2018.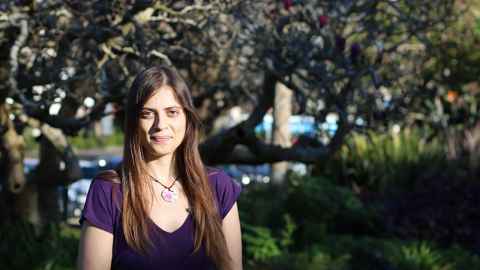 "Receiving a placement as a Northern Hemisphere Summer Research scholar has been a dream come true. Not only have I been able to learn more about how to research primary legal sources, I was also able to learn from an amazing scholar and research director, Dr Arie Rosen.
The reputation for academic excellence and the wonderful location motivated me to study at the University of Auckland.  
"I am researching contract law and consumer law, focusing on how lawyers who are also legislators discuss legislation in parliaments, specifically in Australia, Canada, the UK, and USA.
"The academic staff at the University are really knowledgeable, friendly, and helpful. Dr Rosen tailored the research project to my interests and skills. I have really learned how to dive deep into primary sources to extract appropriate knowledge regarding the research question posed. I hope to use my law degree to help the planet and animals, and am working towards becoming an environmental lawyer.
"Auckland is a very diverse place. I felt culturally enriched being surrounded by so many different events, people, and ideas. I especially enjoyed learning about Māori history and culture. So cool! Winter life in Auckland is actually not cold at all. I often found myself wearing short sleeves outside during the day. Although it did rain a fair bit, there were many days when it was sunny and lovely out.
"My advice to students thinking about applying for the scholarship would be, make sure to give yourself a bit more time than just the eight weeks, if you can. New Zealand is a big place with many interesting sights to see."