Tema, from the beautiful island of Kiribati, was a New Zealand Pacific Scholarship recipient and gained a Master of Education from the University of Auckland.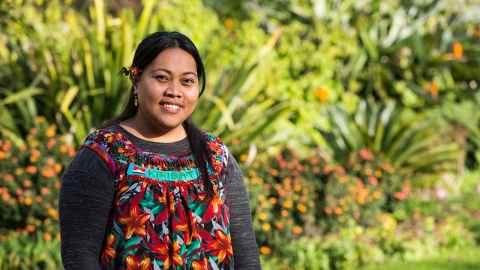 "I was a secondary school teacher before I came to study at the University of Auckland. I chose the Master of Education programme, with a focus on the social psychology of the classroom and education and policy development, because I wanted to learn new concepts and strategies that would contribute to my career and skills as a teacher."
Receiving a New Zealand Pacific Scholarship was one of the best things that has ever happened in my life. Tertiary tuition was a barrier for me to access higher education and professional development. The scholarship has helped me to overcome that barrier and achieve my goals.
"Although I was conscious the University of Auckland is both the best university in New Zealand and a world-ranking one, I wanted to attend this university to challenge myself and work alongside top students to make the most of my postgraduate education.
"My research project was based on a problem in my home country – boys' academic underachievement at junior secondary schools. I explored the relationship between academic achievement and teacher expectations, and was guided by my supportive supervisors, Dr Penelope Watson and Prof. Christine Rubie-Davies. I hope the implications of my study will be helpful for the people of Kiribati.
"The University of Auckland is rich with resources to help you learn the skills you need to succeed, international student support to help you survive in a different context, as well as excellent lecturers, academic resources, and university facilities. The academic staff I worked with were supportive and caring, which made my educational experience extraordinary."
Dr Penelope Watson, a Lecturer in the School of Learning Development and Professional Practice, says, "Tema's masters thesis contributes to the further understanding of teacher expectations, and importantly, within the context of Kiribati. Her findings also inform a deeper understanding of boys' underachievement and factors that influence it. Throughout her study at the University of Auckland she has demonstrated an exemplary level of integrity and determination."